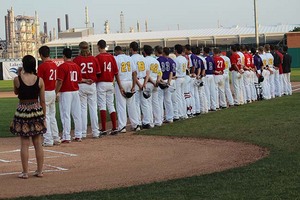 Chicago, Ill. – July 7, 2018 –The Midwest Collegiate League has announced rosters for the 2018 MCL All-Star Game.
The annual showcase of the league's top talent will take place on Saturday, July 14 at 7:10 p.m. at Oil City Stadium in Whiting, Ind. The eighth annual event has become an attraction for professional scouts as the MCL has developed numerous drafted and signed players in its nine-year history, most notably current big leaguers Tony Cingrani (Los Angeles Dodgers) and Paul DeJong (St. Louis Cardinals).
This year's game will pit the MCL East All-Stars – comprised of the Southland Vikings, Northwest Indiana Oilmen and Crestwood Panthers – up against the MCL West All-Stars – made up of the DuPage County Hounds, Joliet Generals and Bloomington Bobcats.
The MCL East All-Stars will be managed by Southland's Dave Letourneau, while Bloomington skipper Jake Wegner will be at the helm for the MCL West All-Stars. Tickets for the MCL All-Star Game are available now on NWIOilmen.com. For those who cannot attend, the game will be broadcast live on the Oilmen Broadcasting Network via Facebook Live.
Click here to view MCL All-Star Rosters for both teams.