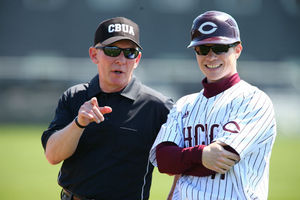 Whiting, Ind. – May 23, 2019 – There's a new manager in charge and a new-look roster set to take the diamond, but the expectation to win remains the same for the Northwest Indiana Oilmen.
A team that has put together seven winning seasons and made seven playoff appearance in its seven years in existence will look to sustain the organization's tradition of excellence under first-year manager Kevin Tyrrell in 2019.
"I feel a tremendous amount of pressure, which is a motivating factor," Tyrrell said. "I don't know exactly what buttons to push. After a few weeks, I'm confident that our identity will show through. As we move along, it'll be a little easier. There's certainly pressure to win right away."
The team's attempt to defend its 2018 Midwest Collegiate League title will be made by a largely new group, but Jackson Dvorak (University of Missouri St. Louis / New Lenox, Ill.) is one returnee who does know what it's like to hoist the MCL Championship trophy.
"Last summer was one of the most fun summers of my life," Dvorak said. "That says a lot, because I've been playing baseball for as long as I can remember. Being able to stay at home again this summer and play on a team where I'll get playing time and have fun is great."
The Oilmen have fewer returnees than normal as only Dvorak and Brandon Petkoff (Texas A&M Corpus Christi / Frankfort, Ill.) are back among those who played in the MCL Championship Series a year ago. In total, the roster features four players who have been Oilmen previously as Tommy Farrell (UIC / Chicago, Ill.) has spent parts of the last two seasons with the team and Tyler Laux (Prairie View A&M / Chicago, Ill.) pitched for the Oilmen in 2018.
Dvorak is back for his third season with the Oilmen and fourth in the MCL.
"Obviously with a new coach and (former manager Adam) Enright being gone, it's going to be a little different than years past," Dvorak said. "I've heard (Coach Tyrrell) is going to do a great job of leading us. A lot of our success last summer came from that fact that we had fun. That's baseball in the summer; you have to have fun. Continuing to do that will make us good again."
One player Tyrrell is excited to get the chance to coach this summer is pitcher Jonny Vesevick (College of DuPage / Wheaton, Ill.), who Tyrrell recruited to College of DuPage before leaving his position there to join the University of Chicago's coaching staff.
The tradition of featuring numerous Northwest Indiana natives on the Oilmen roster continues in 2019. Mason Diaz (Northern Kentucky / Valparaiso, Ind.), Gabe Pulido (South Suburban College / Griffith, Ind.), Joe Rycerz (Saint Xavier / Schererville, Ind.), Hunter Ryan (Purdue Northwest / Hebron, Ind.), Nick Fushi (Ball State / Crown Point, Ind.), Clay Thompson (Oakland / Schererville, Ind.), Chris Torres (Wabash Valley / Chesterton, Ind.), Jacob Anderson (Rockhurst / Munster, Ind.), Mike Madura (South Suburban / Munster, Ind.), Derek Lasky (University of Indianapolis / Valparaiso, Ind.) and Kyle Iwinski (Kankakee CC / Griffith, Ind.) all call The Region home.
"We've got what looks to be a lot of team speed as well as big bats in the heart of the order," Tyrrell said. "I don't know yet what our pitching staff's identity is going to be, but Coach (Kyle) Klosak certainly knows how to get guys to pound the zone, so I think we're going to be aggressive early in counts in trying to get contact, especially with hitters adjusting to wood bats early in the season."
The first four games of the season will be away from home, starting with a visit to Normal, Ill. to take on the Bloomington Bobcats on Wednesday, May 29 at 6:15 p.m. at the Corn Crib. The home opener will be a rematch of the 2019 MCL Championship Series as the DuPage County Hounds come to Oil City Stadium on Thursday, June 6 at 7:10 p.m. The team plans to hold a practice on Tuesday, May 28 to assemble for the first time in advance of the season opener.
"It's actually going to be pretty similar to the environment I was just at with the University of Chicago," Tyrrell said. "Guys will be focused on getting better and showing up every day understanding what is expected of them. It will be a little more laid back, but at the same time just as conducive to developing as a ballplayer."