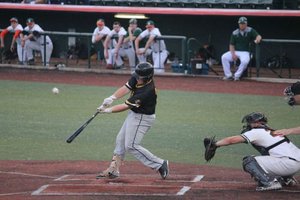 Normal, Ill. – May 29, 2019 – Quality pitching and electric speed on the bases created what seemed like a recipe for success on Wednesday night, but the Northwest Indiana Oilmen couldn't come up with timely hitting in a 3-1 Opening Night setback to the host Bloomington Bobcats at the Corn Crib in Normal, Ill.
The Oilmen (0-1) received a solid start from lefty Jonny Vesevick (College of DuPage / Wheaton, Ill.), who ended up taking a tough-luck defeat in his Oilmen debut despite not allowing an earned run. Both tallies against him were unearned while he yielded just two hits and struck out six over four innings. Vesevick settled in after walking the first two Bloomington batters of the game, walking three total in his start.
"I've seen Jonny pitch an awful lot, and every time I've seen him on a turf mound it takes him an inning to adjust," Kevin Tyrrell said following his debut as Oilmen manager. "I thought he adjusted well. He didn't attack lefties and was nibbling when he should have been assertive. All of their runs came from a walk, an error or both. Overall, our pitching did what it was supposed to do."
The Oilmen stranded 10 men on base and had several quality scoring chance throughout the game where they struggled to cash in with men in scoring positon and less than two outs. The most notable threat came in the top of the eighth, when the Oilmen had runners at second and third and nobody out and the Bobcats worked out of it.
"When we take BP, we're going to focus on two-strike approach," Tyrrell said. "There were times with less than two outs where we had runners at second and third and needed to put the ball in play but didn't. We struck out instead of putting the ball in play to score a run. We can make that adjustment later in the season, it just hasn't been worked on yet."
Northwest Indiana racked up six stolen bases in the game, with Malik Peters (Northern Illinois / Calumet City, Ill.) and Justin Conant (Ball State / Shorewood) each swiping a pair of bags.
"I loved the way we ran the bases," Tyrrell said. "We were very aggressive on the bases; I just wish we were more aggressive on defense and on the mound."
Peters impressed in his Oilmen debut, reaching bases in all five plate appearances. He went 2-for-2 with two walks and an HBP plus two hits. He scored the only Oilmen run of the night in the third after belting one off the wall in left for an extra-base knock. He crossed the dish as Ben Berenda (IU Southeast / Rensselaer, Ind.) ripped a two-out single.
"Malik seemed to just get the barrel to the baseball," Tyrrell said. "He has a simple approach. He has a long body, so he gets some good leverage through the hitting zone. He also runs well. He was battling with two strikes and worked a walk in his first plate appearance. He had a good two-strike approach."
The Peters run in the top of the third gave the Oilmen a short-lived 1-0 lead, but they surrendered unearned tallies in the third and fourth to allow the Bobcats to leap ahead 2-1. The fourth-inning tally came on a double down the left-field line by Garrett Fitz, the hardest hit ball of the day against Vesevick. The go-ahead two-bagger occurred with two outs.
The Oilmen bullpen was effective with Jacob Anderson (Rockhust / Munster, Ind.) working a scoreless frame before Anthony Hernandez (College of DuPage / Chicago, Ill.) allowed one run on four hits over three innings. That insurance tally for the Bobcats (1-0) came in the seventh on a two-out single by Will Oberg.
Bloomington's Calvin Peacock earned the win after allowing one run on three hits in four innings, while Joey Byers nailed down the save with a scoreless ninth.
The Oilmen will be back in action on Friday night at 7 p.m. against the Crestwood Panthers at Howie Minas Field in Midlothian, Ill. Brandon Vickrey, Blake Toman and Jon Zaghloul will have the call on the Oilmen Broadcasting Network, which is available via Facebook Live.