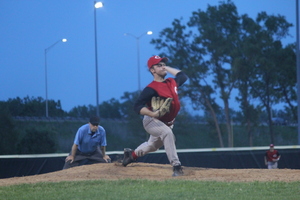 Crestwood, Ill. – May 31, 2019 – After experiencing three consecutive cancellations due to inclement weather, the Crestwood Panthers finally received an opportunity to open their 2019 Midwest Collegiate League season, losing 6-0 against the Northwest Indiana Oilmen at Howie Minas Field on Friday night.
Despite the loss to open up the season, the Panthers (0-1) secured encouraging pitching performances from all four players who toed the rubber. Eddie Wilkins (University of Illinois-Springfield / Braidwood, Ill.) earned the day's start, pitching into the 4th inning, while recording 3 strikeouts against 2 earned runs. In relief, Noah Mathias (Roosevelt University / LaPorte, Ind.) struggled with command early on, surrendering 4 walks in 3.1 innings pitched, yet also allowed only 2 earned runs, those of which scored following his removal from the game. In the game's remaining 2.2 innings, Michael Kokoszka (South Mountain CC / Westmont, Ill.) and Breven Daugherity (Chicago State / Joliet, Ill.) combined for 6 strikeouts and 0 earned runs.
"After watching the arms that threw today, I'd be comfortable pitching these guys in any situation, against anybody," proclaimed Manager Isaac Valdez. "I'm super excited from what I saw, arm-wise. Now granted, we have to knock some rust off; some of these guys haven't played in 3 weeks. But overall, I was very pleased with our pitching tonight."
Unfortunately, however, the Panthers grappled with some problems at the plate, plating only 1 run, while hitting .172 (5/29) as a team. Although discouraging at the outset, Valdez understands that most of his hitters will need time to adjust to in-game opportunities.
"Today was not an indication of who we are as a team. We swung and missed on a lot of fastballs. First, I want to tip my cap to [Oilmen pitcher Jack Guzek (Iowa / Manhattan, Ill.)]. He's a heck of a pitcher. And secondly, knowing that we missed a lot of fastballs tells me that we have some timing issues. And those occur because of rust. Once we get going, this won't be a problem."
In spite of the 6-0 final score, it was not indicative of the Panthers' ability to stay in the game. After giving up 1 run in the first inning, Crestwood stormed back, via a Brandon Simon (UA-Pine Bluff / Chicago, Ill.) double and Reggie Brock (Chicago State / Chicago, Ill.) single. Both players were later in scoring position, yet never crossed home plate, as the Panthers failed to record the necessary timely hit to drive them in. By the 3rd inning, the Oilmen jumped out to a 4-0 lead, scoring 2 runs on a walk, then error.
Both team's offenses were stagnant until the 7th inning, when Northwest Indiana garnered 4 baserunners, yet only scored 2 more runs. Interestingly enough, the Oilmen and Panthers combined for twenty runners left on base, fourteen for NWI and 6 for Crestwood, respectively.
To add to the Opening Day theatrics, the field lights abruptly turned off during the Panthers' final at-bat in the bottom of the ninth inning. After a brief 5-minute delay, the game was called due to darkness. With more than the necessary five innings being played, constituting an official game, the Oilmen were declared victorious.
"I think the lights said that we didn't get enough hits, so they decided to shut down a little bit early," Valdez joked.
In the end, although recording a loss on Opening Day, the Panthers are looking forward to a new and improved 2019 season.
"We have some athletes. We have some speed. I know that these guys are very excited. And I'm very excited for what we've got," assured Valdez.
The Panthers will be back in action on Saturday afternoon at 1 p.m. against the Bloomington Bobcats at O'Neil Park in Bloomington, Ill. Jon Zaghloul will have the call on the Panthers Broadcasting Network, which is available via Facebook Live.