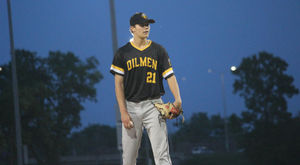 Midlothian, Ill. – May 31, 2019 – After an electric Oilmen debut for starting pitcher Jack Guzek (University of Iowa / Manhattan, Ill.) on Friday at Howie Minas Field, Oilmen manager Kevin Tyrrell said it best.
"If there's a better pitcher in this league, I'd pay to see him."
Guzek dazzled to the tune of 5 2/3 scoreless innings while scattering three hits, accumulating nine strikeouts and issuing one walk. He picked up the victory as the Oilmen blanked host Crestwood 6-0.
"He's very, very good with more than one pitch," Tyrrell said. "It's effortless velocity. He was working out of the stretch tonight, which he's not been comfortable doing, but his coach at Iowa wanted him to get more consistent out of the stretch. It was the first time he was 100 percent out of the stretch in a game, and he was still lights out. That was fantastic; I was really impressed by his performance."
Stolen bases were a significant factor for the second straight game. Malik Peters (Northern Illinois / Calumet City, Ill.) swiped three bags, while Justin Conant (Ball State / Shorewood, Ill.) and Clay Thompson (Oakland / Schererville, Ind.) stole two apiece. As a team, Northwest Indiana has 12 stolen bases through just two games with Peters leading the way with five.
The Oilmen base running played a key role in several other situations that weren't reflected in the box score. There were two critical hit-and-run scenarios including one executed to perfection with a base hit that bounced through the area vacated by the second baseman, who was covering the bag. In two other circumstances, the Oilmen stole second with men at first and third and the lead runner broke for the plate and successfully scored on the throw to second.
"It was good to see the base running lead to runs tonight," Tyrrell said. "We are still stranding way too many runners, but if you have to strand runners at one point in the season, it's better to be early than late. That also means that we're getting guys on base. We will continue to improve as our guys get used to swinging the wood bats. I told the guys that if we make mistakes running the bases, we want them to be aggressive mistakes so that we can learn from them. I don't want us to have to turn it on at the end of the season. I want us to know our limitations, and you only find that out by being aggressive."
After Guzek was lifted, Colin Walton (Robert Morris / Midlothian, Ill.) tossed 2 1/3 scoreless frames and permitted just two hits and no walks while striking out four. The game ended unceremoniously and abruptly when the lights went out during the bottom of the ninth inning, allowing the Oilmen (1-1) to register a slightly-abridged victory over the Panthers (0-1), who have dropped 17 straight head-to-head meetings. The win marked Tyrrell's first as Oilmen manager.
"Winning is better than losing, that's for sure," he said with a laugh. "Hopefully it's the first of many."
Peters, who occupied the leadoff spot, collected three hits and is up to five through his first two games, while Thompson served as a secondary leadoff man out of the No. 9 spot in the order, going 2-for-4 with two runs scored. Switch-hitting catcher Ben Berenda (IU Southeast / Rensselaer, Ind.) was an on-base machine, drawing five walks and finishing the game with no official at-bat. He accounted for over half of the team's eight bases on balls.
The Oilmen played error-free ball on their way to handing Eddie Wilkins the defeat. The Panther pitcher lasted three frames and yielded four runs (three earned) on five hits and two walks.
After the Oilmen scored single tallies in each of the first two innings, Joe Rycerz (Saint Xavier / Schererville, Ind.) ripped a two-run double to the right-center gap in the third that doubled the lead to four. Two insurance tallies came in the seventh to account for the final margin.
The Oilmen will be back in action on Saturday at 4 p.m. at Hap Bruno Field against the Southland Vikings. Brandon Vickrey, Blake Toman and Will Trubshaw will have the call on the Oilmen Broadcasting Network via Facebook Live. Please note that the start time was pushed back from the originally slated time.