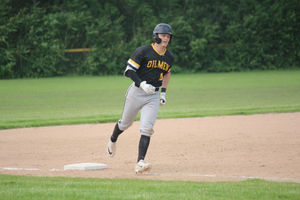 Chicago Heights, Ill. – June 1, 2019 – Small ball and speed made for a successful formula on Friday night, but on Saturday it was all about extra-base knocks for the Northwest Indiana Oilmen.
The Oilmen banged four doubles and two home runs in just five innings on their way to a rain-shortened 8-6 victory over the Southland Vikings at Hap Bruno Field.
"It was good to see our bats wake up a little bit," Oilmen manager Kevin Tyrrell said. "In the first two games, the outfielders ran down a lot of hard-hit balls in gaps. Sometimes the hits come all at once. Baseball is a funny game. We have a really potent offense and especially once these guys get used to the wood bats, I think our offense is going to be scary in more ways than one."
The Oilmen jumped in front right away, scoring twice in the opening inning including an RBI double by Joe Rycerz (Saint Xavier University / Schererville, Ind.) to plate a pair. NWI tacked on four runs in the fourth inning with Rycerz once again at the center of the excitement. He ripped a three-run bomb to help the Oilmen bolster their lead to 7-0. The NWI first baseman enjoyed a 2-for-3 day with a double, homer and four RBIs.
"Joe was locked in and really loose," Tyrrell said. "I saw him taking some swings in BP and he seemed very confident. When a guy with that type of bat speed is hitting the ball well, it's almost unfair to a pitcher."
The Vikings (0-2) battled back by scoring three in the fourth and three in the fifth to make a game of it. Five of those six runs were charged to Oilmen starter Mike Madura (South Suburban / Munster, Ind.), who allowed four earned on six hits in four-plus innings. He earned his first victory of the season while helping the Oilmen up their record to 2-1.
"That was the most Mike has thrown in a long time," Tyrrell said. "After the fourth inning, he was starting to run out of gas. When he wasn't fatigued, he was very sharp. I didn't see too many guys getting barrels on balls the first time through the order. Everything was downhill from the bottom of the zone with his fastball. He got swings and misses with his off-speed, which was big."
Former Southland Viking Frank Napleton (Saint Leo / La Grange, Ill.) collected two hits against his former team, while Hunter Ryan (Purdue Northwest / Hebron, Ind.) cracked his first home run of the season in the fifth inning.
The Oilmen will be back in action on Tuesday at 6:15 p.m. at the Corn Crib in Normal, Ill. against the Bloomington Bobcats. Brandon Vickrey and Blake Toman will have the call on the Oilmen Broadcasting Network, which is available via Facebook Live.