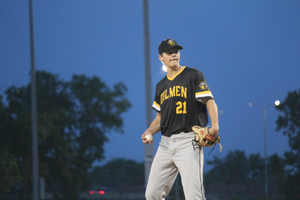 Chicago, Ill. - June 3, 2019 - The Midwest Collegiate League has announced the first set of weekly award winners for the 2019 season, with one Oilman and one Hound respresnted in the honorees.
DuPage County third baseman Nick Santoro (UW Whitewater / Naperville, Ill.) earned the league's Player of the Week award and Northwest Indiana's Jack Guzek (University of Iowa / Manhattan, Ill.) received the Pitcher of the Week award.
Santoro was dominant in both the batter's box and on the basepaths in the first four games of the season for the Hounds, notching 10 hits in 18 at-bats and eight stolen bases. Three of those hits came in the Hounds' season opener, a 24-1 win over the Joliet Generals. His .556 batting average and .619 on-base percentage helped lead his team to an impressive 4-0 start to the 2019 MCL season.
Guzek pitched 5 2/3 shutout innings against the Crestwood Panthers in his first start of the 2019 MCL season on May 31. He faced 21 batters, allowing only three hits and one walk while striking out nine on his way to his first win as part of the Oilmen. His starting performance led the Oilmen to their first victory of the 2019 MCL season and helped his team get off to a 2-1 start to the year.