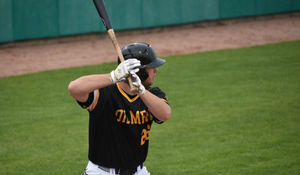 Whiting, Ind. – June 7, 2019 – The Crestwood Panthers entered the win column on Friday night at Oil City Stadium.
The Oilmen (3-3) dropped their second straight game to start the home portion of the schedule, falling 10-4 at the paws of the Panthers in a game that saw the home team commit five errors and make several other defensive misplays. On three occasions, Panther hitters reached on dropped third strikes. Crestwood (1-6) grabbed its first win of the season, while Northwest Indiana found itself searching for a way to shore up the defense following the contest.
"We're not fundamentally sound right now, so we need to go back to the basics," Oilmen manager Kevin Tyrrell said. "We're going to make sure we know how to approach ground balls, defensive situations and where to throw the baseball. I could have done a better job of hammering into our pitchers' heads a better pitch selection on 0-2; we let up a lot of 0-2 rockets. Outside of that, our pitchers did a great job of getting outs, but unfortunately we gave them around nine extra outs on the bases and at the plate. You're not going to win that way."
The Panthers scored twice in the second and still held a two-run lead at 3-1 going to the sixth. That's when Crestwood put a five spot on the board with help from wobbly Oilmen defense, creating some separation in the game. They tacked on two more in the seventh on their way to ending a 17-game head-to-head losing streak to the Oilmen and earning the team's first-ever victory at Oil City Stadium. The Panthers hadn't beaten the Oilmen at any venue since June 18, 2017 and held an 0-9 record in Northwest Indiana since joining the MCL in 2017 before Friday.
The Oilmen pitching staff battled despite having to get extra outs as Jonny Vesevick (College of DuPage / Wheaton, Ill.) started the day by allowing two runs on two hits in three innings. The first of six NWI hurlers on the evening, Vesevick took the loss to drop to 0-2. Kyle Iwinski (Kankakee CC / Griffith, Ind.) and Anthony Hernandez (College of DuPage / Chicago, Ill.) each twirled scoreless frames late in the game.
"Our pitchers did a good job of making the next pitch after errors," Tyrrell said. "A lot of times you see a pitcher lose momentum by losing confidence in the defense and forcing themselves to make a perfect pitch, and then they nibble and walk guys. Our pitchers didn't do that at all; they just kept pounding the zone. That tells you about their mental toughness. I was proud to see that; it was a bright spot."
Tommy Farrell (UIC / Chicago, Ill.) and Mason Diaz (Northern Kentucky / Valparaiso, Ind.) had two hits apiece, while Ben Berenda (IU Southeast / Rensselaer, Ind.) reached base three times and upped his team-high walk total to 11. The Oilmen mounted a minor rally in the ninth, sending eight men to the plate and scoring twice, but it was too little, too late.
Northwest Indiana will look to get back on the winning track on Saturday at 6:10 p.m. as the Southland Vikings visit Oil City Stadium. There will be an Oilmen T-shirt giveaway prior to Saturday's game. For those who can't attend in person, Brandon Vickrey and Will Trubshaw will have the call on the Oilmen Broadcasting Network, which is available via Facebook Live.