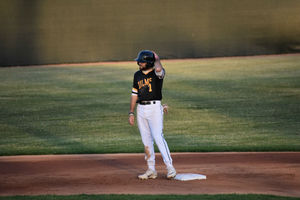 Whiting, Ind. – June 8, 2019 – It was just another Oilmen-Vikings game on Saturday night at Oil City Stadium.
An all-time series that features no shortage of close and dramatic contests added another one to the list as Southland pulled out a 4-3, 12-inning win in Northwest Indiana. The Oilmen (3-4) incurred their third straight loss, while the Vikings (2-3) made it back-to-back wins.
The evening got off to a rough start for the Oilmen, who made three errors in the opening inning and handed Southland a pair of unearned runs. NWI committed four errors for the game, but for the second straight night the Oilmen pitching staff did a superb job minimizing the damage.
"I sure hope our defensive is fixable," Oilmen manager Kevin Tyrrell said. "I didn't do a good job of fixing it today. I thought I did, but right now I look like the worst defensive coach in the world. However, we didn't let that defeat us. We did strand some runners and didn't get timely hits, but the pitching staff has been fantastic."
The Oilmen bounced back with a run in the bottom of the first as Justin Conant (Ball State / Shorewood, Ill.) singled and scored on a Joe Rycerz (Saint Xavier / Schererville, Ind.) sac fly. NWI plated a pair in the fifth including a clutch two-out, RBI double by Rycerz that snapped a 2-2 tie. That 3-2 lead was intact until the eighth, when the Vikings pushed across a run to get back to even.
It remained a 3-3 deadlock until the top of the 12th, when Jacob Anderson (Rockhurst / Munster, Ind.) surrendered three hits including a go-ahead flair by Justin Rios with two outs that drove in the game-winning run. Rios, a two-way player, had the game-winning hit and was the winning pitcher for Southland.
Oilmen starter Justin Ruthrauff (South Suburban / Chicago, Ill.) had an outstanding day against his former team. He heaved 5 2/3 innings and allowed just one hit and three walks. The southpaw permitted two runs, both unearned as they came in a first inning where he had to get six outs.
"He probably would have had seven innings of no-hit ball if we had caught the ball behind him," Tyrrell said. "He ran out of gas because we made him throw extra pitches. That was the deepest into a game he had gone in a long time. His stuff is great. He pitches to contact and we did a nice job of pitching to contact all day."
Brandon Laux (Kirkwood CC/ Chicago, Ill.) took over for Ruthrauff and was nearly as impressive, allowing one run on three hits and one walk while striking out four in 5 1/3 frames.
"He's got an electric arm," Tyrrell said. "Once he gets confidence in his off-speed stuff, he'll be unhittable. They took some good swings at his fastball the second time through the lineup when they noticed he wasn't getting his off-speed pitches over. That's when he started throwing his off-speed for strikes. He surprised me because he doesn't seem like a kid coming straight from high school."
Anderson (0-1) was hit with the defeat, Rios (1-0) worked 2/3 of an inning and garnered the win and Trey Ricko came on to pitch a scoreless ninth to nail down his first save.
Clay Thompson (Oakland / Schererville, Ind.) registered a four-hit output for the Oilmen, who collected 13 hits but had just three runs to show for it.
The Oilmen will be back in action on Tuesday at 5 p.m. against the DuPage County Hounds. Please note that the game has been moved to Hap Bruno Field in Chicago Heights, Ill. due to ongoing construction at the home of the Hounds, the Lemont Sports Complex. Thursday's game against the Hounds has also been moved to Hap Bruno Field. If you can't make it out on Tuesday, Sam Oppenheim (filling in for Brandon Vickrey) and Blake Toman will have the call on the Oilmen Broadcasting Network, which is available via Facebook Live.