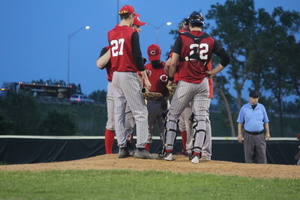 Chicago Heights, Ill. – June 9, 2019 – It was, without a doubt, the most promising start to a game that the Panthers had experienced throughout the season. In a first inning that saw all nine batters receive a plate appearance, Crestwood stormed out of the gate with four runs on three hits. Yet, in the end, a costly defensive miscommunication led to a heartbreaking 8-7 walk-off loss against the DuPage County Hounds on Sunday night.
That dynamic first inning was propelled by the likes of Reggie Brock Jr. (Chicago State / Chicago, Ill.), who recorded a timely two-RBI double, putting the Panthers ahead early. Overall, Brock struck for three hits in four at-bats, raising his individual batting average to .462, ranking first on the team.
After the fifth inning, a moment in which the Hounds manufactured their first comeback of the game, Brandon Simon (UA-Pine Bluff / Chicago, Ill.) followed in Brock's footsteps, lining a two-out, two-RBI double into deep left field, extending the Panthers' slim lead. At the time, with Crestwood feeling the effects of a comfortable four-run advantage, it seemed as if the team was rightfully on its way to win number two. But as Manager Isaac Valdez alluded to after the game, his team's relaxed mindset, at that time, proved to be problematic later on.
"We have to stay in the game for all nine innings. I think there are times in the game where we mentally check out because we are doing well, and when you're a good team like them [DuPage County Hounds], you can take advantage and jump on that opportunity."
Case in point, the Panthers had held a lead through all nine innings, albeit with some fluctuation in its total length. Protecting Crestwood's edge throughout the game was Ethen Otstcott (Prairie State College / Oak Forest, Ill.), as he turned in 4.2 innings of three-run ball, while walking only one Hounds hitter. According to Valdez, Otstcott's performance exceeded expectations, and played a major role in the Panthers' ongoing lead.
"Ethen did a great job, throwing just about five innings or so. He pitched outstanding, and gave us exactly what we wanted. Actually, he had given us more than what we had hoped for. His performance kept us in the game."
In the ninth inning, however, the Panthers' two-run lead morphed into a tie game, thanks to a sacrific fly by DuPage County's Jacob Hansen, and a Scott Jones fielder's choice. With two outs in the inning, and the game all knotted up, Valdez decided to make a pitching change, bringing in Malek Mostafa (Elmhurst College / Westmont, Ill.) to record the inning's final out, sending the game to extras. Unfortunately, however, when facing his first batter, Brandon Bannon of the Hounds decided to steal second base. As the throw was made down to second, no one was covering the bag. This led to Scott Jones scoring the game-winning run.
"It's so tough in a summer collegiate league when you don't have practices," Valdez said. "Everyone is used to what they're doing with their programs and their philosophies, so it can be tough to bring everyone together and learn to run plays. Look, it was a miscommunication, simple as that, and we have to be ready for what's to come."
The Panthers will undergo a quick turnaround, as they'll be back in action tomorrow night against the Joliet Generals at Howie Minas Field at 5 p.m. Sam Oppenheim will be on the call, working a solo broadcast on the Panthers Broadcast Network, available via Facebook Live.