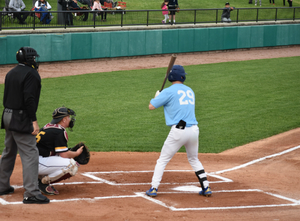 Whiting, Ind. – June 11, 2019 - The DuPage County Hounds (7-3) reclaimed sole possession of first place in the MCL in resounding fashion, beating the Northwest Indiana Oilmen (3-5) 13-3 in nine innings at Hap Bruno Field in Chicago Heights, Ill.
The Oilmen got off to a rough start, committing two errors and giving up five runs in the first inning. Derek Lasky (University of Indianapolis / Valparaiso, Ind.), who took the mound to start the game for the Oilmen, struggled to find the strike zone early. He walked three batters in the first inning and surrendered eight runs in his three and two-thirds innings, all of them earned.
"Derek had a rough first inning and struggled with his command," Oilmen manager Kevin Tyrrell said. "But pitching coach Kyle Klossak had him make a mechanical change, and it worked well."
Lasky hit the first batter he faced in the second inning but stuck with Klossak's advice and surrendered only three runs in the rest of his outing.
"I was worried that he might give up on it after hitting the first batter," Tyrrell said. "But he stuck with it and as the game went on, he got better and better."
The Oilmen made it a 5-2 game in the second when a hard ground ball hit by Brandon Petkoff (Texas A&M – Corpus Christi / Frankfort, Ill.) got through the Hounds' infield. But DuPage would continue to add to their lead, scoring two runs in the second inning and one more in the fourth. The Oilmen would pick up another run in the seventh after pinch hitter Frank Napleton (Saint Leo / La Grange, Ill.) smashed a double to the left field wall, scoring Hunter Ryan (Purdue - Northwest / Hebron, Ind.) from first. But the Oilmen weren't able to mount a strong enough rally to overcome the Hounds.
"It limits our offense when we're battling from behind," Tyrrell said. "We can't take as many chances and it makes it much easier for opposing pitchers."
DuPage County's starter, A.J. Golembiewski, (University of Illinois-Springfield / Woodstock, Ill.) pitched six and two-thirds innings while allowing only one earned run on three hits and three walks. He was relieved by Charlie Andersen (Florida Southern College / Chicago, Ill.) who picked up his first save of the year, pitching two and one-third innings while allowing no runs.
The Hounds' pitching duo was bolstered by a trio of sluggers in Scott Jones (LSU – Eunice / Sulphur, La.), Cameron Falk (Benedictine University / Bolingbrook, Ill.), and Jack Anderson (Northern Illinois University / Glenview, Ill.). Jones got on-base in every single at-bat, going 5-5 and scoring four times. Falk and Anderson led the team in RBIs with each notching three. Anderson doing so without recording a single hit.
The Hounds were also helped by an Oilmen defense that committed a season-high six errors. However, Tyrrell is confident that the Oilmen can win games if they improve their defense. "
We'll continue to work on ground balls and our defense," Tyrrell said. "But if we can figure it out, we'll have no trouble winning ball games."
The Oilmen will look to bounce back from a four-game losing streak on Wednesday, June 12 against the second place Bloomington Bobcats at Oil City Stadium in Whiting, Ind. Sam Michel from WJOB 1230 (filling in for Brandon Vickrey) and Blake Toman will have the call on the Oilmen Broadcasting Network which is available via Facebook Live.