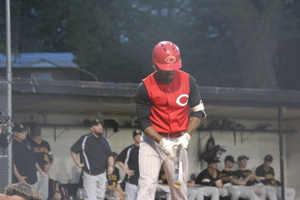 Crestwood, Ill. - June 13, 2019 - Although entering Thursday night's matchup against the Bloomington Bobcats sitting near the bottom of the MCL standings, the Crestwood Panthers far outplayed their "on paper" expectations. In fact, for seven innings, the Panthers had twirled a combined shutout on the mound, while maintaining a two-run lead. But after a tumultuous final two innings, in which the Bobcats struck for 11 runs, Crestwood fell to Bloomington 11-2.
The Panthers jumped out ahead early, scoring two runs in the first inning, courtesy of a Brandon Simon (UA-Pine Bluff / Chicago, Ill.) RBI single and Justin Janas (University of Illinois Urbana-Champaign / Chicago, Ill.) RBI groundout. Starting pitcher Eddie Wilkins (University of Illinois-Springfield / Braidwood, Ill.) spun a gem with the comfortable, initial lead, pitching five scoreless innings, adding eight strikeouts against two walks. Ryan Evans (Wisconsin Lutheran / Chicago, Ill.), making his Panther debut, entered the game in relief of Wilkins, and gave up just one run over two innings. In the end, however, an eighth inning in which the Bobcats scored seven runs, stole the story from an otherwise well-played game.
"We just don't have enough quality pitching, and that makes it tough for us to close out games," said Manager Isaac Valdez. "I thought our pitchers tonight didn't trust their stuff, and relied too much on their offspeed pitches. At this point, one of two things needs to happen. Either our current pitchers need to improve on being better strike throwers, or we need to find guys who will throw strikes."
In spite of the late-game pitching problems, the Panthers also had trouble scoring runs, and sustaining offensive success, past the first inning. In fact, as a team, Crestwood hit just .161 (5/29), recording two of their five hits in the first inning alone. Valdez felt that some baserunning miscues may have contributed to the team's stagnant offensive production.
"We make at least three mental mistakes in every game. And today, we made at least three baserunning mistakes early on. And all of them cost us runs, because the people behind them got hits, and that would have scored them. That would have made it 5-0 early, and then, who knows how they [Bloomington Bobcats] would have reacted to it. That also would have allowed me to stick with a pitcher a little bit longer. That could have changed everything."
In the context of a nine-inning game, Crestwood dominated the majority of it. As Valdez alluded to, however, baserunning mistakes and late-game pitching issues inflamed the final score, and made it seem as if the Panthers had never retained an opportunity to win. In reality, though, Crestwood had controlled matters from the beginning, yet could not find a way to end up on top.
"Our mental mistakes have been a dark cloud for us; they just hang over us every single game," said Valdez. "We need to be smarter on the field."
The Panthers will be back in action on Friday night, as they take on the Northwest Indiana Oilmen at Oil City Stadium in Whiting, Ind. Brandon Vickrey and Jon Zaghloul will be on the call via the Oilmen Broadcasting Network, accessible on Facebook Live.