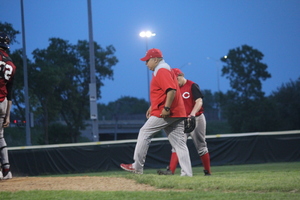 Whiting, Ind. - June 14, 2019 - It looked as if it'd be déjà vu all over again for the Crestwood Panthers on Friday night.
After taking an early 2-1 lead against the Northwest Indiana Oilmen, the Panthers had proceeded to allow five runs to score over two innings, thus surrendering yet another seemingly-safe lead. Crestwood, however, didn't go down without a fight, scoring four runs in the eighth inning to tie the game, before losing 7-6 on a walk-off double.
The early Panther lead was powered by a towering solo home run courtesy of Tom Stoodt (Butler University / Chicago, Ill.) in the second inning. Blake Soria (Prairie State College / Homer Glen, Ill.) added a double in the same inning, and Tim Fauth (Harper College / Elk Grove, Ill.) drove him in via a sacrifice fly. This would end up serving as the Panthers' only source of offensive production until the eighth inning.
The Oilmen, meanwhile, struck for three runs in the fourth inning, then added two more in the fifth, to take what looked to be a commanding 5-2 advantage. Fortunately, however, Crestwood wasn't willing to go down without a fight.
In the eighth inning, following an apparent inning-ending double play that was later overturned via an appeal by Manager Isaac Valdez, the Panthers plated four runs, all with two outs, to tie the game. Nick Anderson (Kankakee CC / Highland, Ind.) cracked a clutch, three-RBI double to bring the Panthers to within one, and Reggie Brock Jr. (Chicago State / Chicago, Ill.) tacked on an RBI single to officially even up the score.
"I try to tell people that I'm a genius, but most people don't listen" joked Valdez. "I had decided to appeal on the double play call because I had nothing to lose. The players were telling me that his [Joe Rycerz] foot was off of the bag, and I knew they weren't saying it just to say it. So I appealed, the call was reversed, and then, we took advantage of the opportunity."
Valdez's "genius" appeal aside, the Panthers strung together an impressive comeback, one that showcased their fighting spirit, and their ability to compete with any team in the MCL.
"It was great to see that fight," Valdez said. "It all started because we had a baserunner [Blake Soria] hustling on a routine ground ball. And that tells me a lot about who these guys are. I'm very proud of the guys; it's unfortunate that we didn't end up with the W, but we fought back. We scored four runs with two outs, and had an opportunity with the bases loaded near the end. Sometimes the ball just bounces that way."
Despite the team's second walk-off loss this week, and their 1-11 overall record, Valdez asserts that Crestwood's time is coming. With improvement apparent, it makes it much easier to anticipate future success.
"Look, I'm not a big moral victory guy, but I have to look back on the situation. This is not professional baseball, this is college baseball, and moral victories can mean something. In that respect, we've had a decent week. It wasn't great because we didn't get the results, but I've seen growth. We just have to get over that hump, but we're right there, and we can compete with anybody."
The Panthers will be back in action on Saturday afternoon, as they take on the Joliet Generals at Joliet Junior College in Joliet, Ill. Sam Oppenheim and Jon Zaghloul will be on the call via the Generals Broadcasting Network, accessible on Facebook Live.