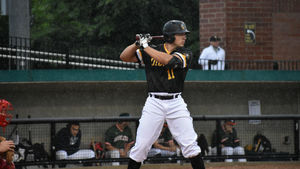 Whiting, Ind. – June 16, 2019 – In a sea of new faces, there's a quite familiar one for Northwest Indiana Oilmen fans.
The man who has become the team veteran in a year that features a new-look roster and coaching staff came through in a big way on Sunday afternoon at Oil City Stadium. Jackson Dvorak (University of Missouri St. Louis / New Lenox, Ill.) drove in four of the team's six runs including a three-run homer to help the Oilmen over Joliet 6-3.
Dvorak's blast to right field in the third inning snapped a 2-2 tie and was the first opposite-field home run of his life. It was his first home run of the season and the second of his Oilmen career as he homered against DuPage County on July 23 of last season. Dvorak is the longest tenured Oilman, in his third season with the team and fourth in the Midwest Collegiate League.
"Jackson is a tough out, and even when he's not seeing the ball well, he's going to grind at-bats," Oilmen manager Kevin Tyrrell said. "He was looking away and had a really good approach today, and it was a good day to hit the ball in the air. He's the veteran in the clubhouse right now, and he keeps our guys loose."
The Oilmen (6-5) struck first on an RBI single by Dvorak in the opening inning. The lead doubled to two as Frank Napleton (Saint Leo / La Grange, Ill.) belted a big fly to lead off the second, an inning that also featured a Clay Thompson (Oakland / Schererville, Ind.) double. Thompson picked up right where he left off after collecting four hits including the walk-off double on Friday against Crestwood.
"Clay is like a water bug – he's so quick," Tyrrell said. "From the first day that we worked out, he's been working on getting inside the baseball and going the other way. Most of his hits and especially his extra-base hits have gone to the opposite-field gap. He's doing a great job of executing what he's been practicing."
The Generals (2-4) tied the game by scoring twice in the third, but the Dvorak dinger in the bottom of the frame put the hosts right back on top. Gabe Pulido (South Suburban / Griffith, Ind.) clubbed a run-scoring double for his first hit and RBI in an Oilmen uniform, plating the team's sixth and final run of the day.
Joliet cut the lead to three with a fifth-inning tally, but the game was cut short as heavy fog was deemed unsafe for the continuation of play by the home plate umpire. Since the home team led and the visiting team batted in the fifth, the game was official. This was the fourth time this season the Oilmen played a shortened game due to inclement weather or darkness and the second time a game at Oil City Stadium was cut short by fog.
Kyle Iwinski (Kankakee CC / Griffith, Ind.) earned the victory on the mound, his first decision of the season. He threw a five-inning complete game, allowing three runs on five hits and one walk while striking out eight.
"His arm is electric and we're pumped about having him for the summer," Tyrrell said. "Today wasn't even his best, but I thought he was great today."
Northwest Indiana has strung together three straight victories to move back over the .500 mark at 6-5 through 11 games.
"Baseball is a funny game, so once you have a little bit of confidence, you're dangerous," Tyrrell said. "We've got guys swinging the bats well and pitchers who are having more confidence in their defense. We hope we can get everybody healthy and get some momentum going. We've got a lot of games coming up, so it's going to be tricky on my end to get guys rest when they need it. Hopefully we've got enough depth to make it through this stretch in good shape."
The Oilmen will begin a stretch of 15 games in 14 days on Wednesday as the Bloomington Bobcats come to town for a 7:10 first pitch. For those who can't make it to Oil City Stadium, Brandon Vickrey and Blake Toman will have the call on the Oilmen Broadcasting Network, which is available via Facebook live.