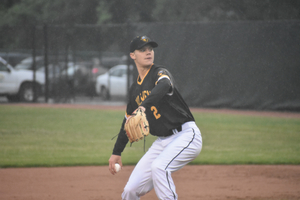 Chicago, Ill. - June 17, 2019 - After an interesting third week of baseball, the Midwest Collegiate League has announced its third pair of award winners, with the Northwest Indiana Oilmen and the Bloomington Bobcats represented.
The Bloomington Bobcats' shortstop Austin Biehl (Parkland College / Mahomet, Ill.) secured the Player of the Week award and the Northwest Indiana Oilmen's Jack Guzek (University of Iowa / Manhattan, Ill.) earned his second Pitcher of the Week award this season.
Biehl had a solid week at the plate, posting an impressive .571 batting average while driving in three runs on eight hits. His three-hit, three RBI performance against the Crestwood Panthers on Thursday, June 13, helped the Bobcats secure an 11-2 victory and moved the team to an 8-4 record on the year.
Guzek was lights out against the Bloomington Bobcats, striking out the first eight batters he faced. He allowed one earned run in his six innings pitched while striking out 11 and giving up only two walks en route to an 18-10 win for the Oilmen.

2019 Player of the Week Award Winners
June 3 - Nick Santoro, DuPage County Hounds
June 10 - Reggie Brock Jr., Crestwood Panthers
June 17 - Austin Biehl, Bloomington Bobcats

2019 Pitcher of the Week Award Winners
June 3 - Jack Guzek, NWI Oilmen
June 10 - Trey Ricko, Southland Vikings
June 17 - Jack Guzek, NWI Oilmen