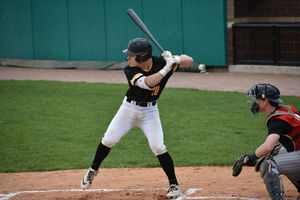 Whiting, Ind. – June 19, 2019 – An unprecedented streak of wacky Whiting weather continued on Wednesday night at Oil City Stadium.
A consistent rain ranging from a sprinkle to a downpour presented both teams with an additional adversary in a seven-inning, rain-shortened game that the Bloomington Bobcats won 4-2 over the Northwest Indiana Oilmen.
"You have to really want to win to be successful in bad weather conditions, and I felt like we did," Oilmen manager Kevin Tyrrell said. "We were down 4-0 and we knew the seventh would be the last inning. We were cold and wet and could have easily wasted our at-bats and got back into the warm clubhouse. We wanted to win the entire game. There was no quit in any of us. It was a pretty good defensive approach. We were running down fly balls and making plays on defense, but you have to give Bloomington credit; they played very well."
Derek Lasky (University of Indianapolis / Valparaiso, Ind.) threw five solid innings, yielding three runs on three hits while striking out seven and walking four. Justin Ruthrauff (South Suburban / Chicago, Ill.) followed by allowing one run on one hit in two frames. All four runners who scored for the Bobcats reached base via free passes. Lasky (0-2) took the defeat for the hosts.
"Derek had a good outing except one inning where he struggled a bit with control," Tyrrell said. "He figured it out, but we didn't give him any run support. Our hitters were swinging at ball four and taking strike three. Their starter did a great job. Derek pitched well enough to win. I'm sure he would tell you he should have done a better job of commanding the zone. They didn't hit him well and weren't seeing him well, so if it weren't for the walks, he wouldn't have allowed any runs."
The Oilmen (6-6) managed just four hits over the seven innings, two by Hunter Ryan (Purdue Northwest / Hebron, Ind.). The Bobcats (10-5) led 4-0 through six and a half, but NWI rallied for two runs on two hits in what proved to be the final frame.
Bloomington starter Ryan Leland (1-1) worked 6 1/3 shutout frames scattering four hits and working around three walks while striking out five to earn the win. The right-hander carried a perfect game into the fifth inning.
"Our hitters didn't have a very good mental approach, but there were some guys who were making hard outs," Tyrrell said. "He wasn't falling behind guys, and we let him off to hook when we did get to three-ball counts. He was confident out there once they got the early lead, and he kept cruising. Leland deserves a lot of accolades for his performance."
The Oilmen will be back in action on Thursday night at 7:10 p.m. as the DuPage County Hounds come to Oil City Stadium. For those who can't make it to the ballpark, Brandon Vickrey and Blake Toman will have the call on the Oilmen Broadcasting Network, which is available via Facebook Live.