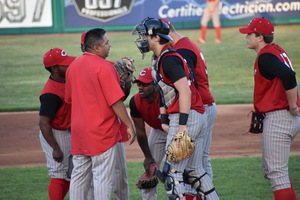 Lexington, Ill. – June 20, 2019 – It had been nearly one week since the Crestwood Panthers had last taken the field, as three scheduled days off, combined with two consecutive cancellations, prompted an unforeseen baseball hiatus. Although aggravating at first glance, it proved to be quite beneficial, as the Panthers received an opportunity to revitalize their otherwise taxing 2019 MCL Season. Case in point, Crestwood struck for 16 hits, complementing three gutsy pitching performances, en route to a 10-5 win over the first-place Bloomington Bobcats on Thursday night.
The Panthers, by far, posted their best single-game offensive totals of the season. For starters, every player originally listed in the starting lineup reached base on Thursday night, and to boot, all but two recorded at least one hit. Mike Machnik (Kankakee CC / Chicago, Ill.), making his Panthers debut, led the charge, recording four hits in at-bats, while adding two runs scored, and an RBI. Blake Soria (Prairie State College / Homer Glen, Ill.) and Tom Stoodt (Butler University / Chicago, Ill.) posted three hits apiece, with the former also contributing an RBI and a run scored. Reggie Brock Jr. (Chicago State / Chicago, Ill.) built upon his impressive .500 batting average, going two for three with two RBIs, and Jacob Hunt (Calumet College / Whiting, Ind.) put together a two-hit performance, adding one RBI.
"We've struggled with timely hitting in the past, but tonight, it was the complete opposite," said Manager Isaac Valdez. "We had runners on base just about every inning; we got them on early and knocked them in. This applied pressure to the other team [Bloomington Bobcats]. That's an excellent team, obviously a first-place right there. But we made it happen here tonight."
On the mound, Brock Budzielek (Calumet College / Hobart, Ind.) hurled 4.1 innings of three-run ball, adding four strikeouts against three walks. Ryan McGrath (South Suburban College / Chicago, Ill.) came on in relief, and maintained a somewhat-shaky lead in the middle innings, giving up two runs in 3.2 innings, while striking out three Bobcats. Matthew Manous (University of Colorado / Munster, Ind.) twirled a scoreless ninth inning to seal the Panthers' second win.
"The guys today threw strikes early and often, and utilized their secondary pitches," said Valdez. "Somewhere around the middle of the game, they started to hit us, so that's when I talked with Blake [Soria] and decided to work backward. That plan is great, but it only works when the pitchers can execute by throwing their secondary pitches for strikes. And that's why we won tonight."
Although still sitting at the bottom of the MCL standings with a 2-11 record, Thursday night's win proves that past failures can be deceiving. The Panthers are only 13 games into a lengthy 50-game season, and Valdez believes that his team can compete with anyone.
"Something that I've been saying since day one is that I really like this team. I feel comfortable coming to the games with these guys; I don't care who we're playing and I don't care what our record is, because I know that we are good, and I know that we can beat anybody on any given day."
The Panthers will be back in action on Friday evening, as they take on the Northwest Indiana Oilmen at Oil City Stadium in Whiting, Ind. Brandon Vickrey and Jon Zaghloul will be on the call via the Oilmen Broadcasting Network, accessible on Facebook Live.