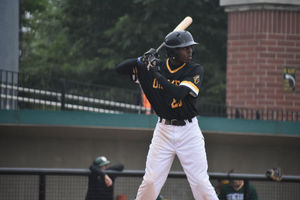 Whiting, Ind. – June 20, 2019 – The weather and the Northwest Oilmen offense the last two nights at Oil City Stadium could collectively be summed up with one word – cold.
But after a 7-0 defeat to DuPage County on Thursday, Oilmen manager Kevin Tyrrell was well aware that his team's bats, like the weather, are bound to heat up soon.
"We've been leaving too many on base this year, but all that means is that we're one hit away," Tyrrell said. "Hitting is contagious, and we tend to go cold as a team and then get hot as a team. That can be a recipe for winning a championship as long as we get hot at the right time. I'm excited about our team offensively even though it didn't work out tonight."
A night after managing two runs on four hits in a 4-2 loss to Bloomington, the Oilmen were shut out for the first time this season. The last time the team was held off the scoreboard was also against DuPage County and by the exact score of 7-0 on July 16 in Lemont last season.
Three DuPage County (9-5) pitchers combined on the shutout, while the Hounds scratched out single runs in the first, fifth and sixth innings before breaking it open with four in the top of the ninth. The game was closer than the final margin would indicate.
"The Hounds are dominant offensively," Tyrrell said. "They swing the bats extremely well, and if you don't have three pitches you can command for a strike, they're going to hit. They don't strike out very much, so every victory that we get against that team is going to be earned."
Clay Thompson (Oakland / Schererville, Ind.) and Malik Peters (Northern Illinois / Calumet City, Ill.) continued to bookend the Oilmen order in style as the No. 9 and leadoff batters respective had two hits apiece. The Oilmen had quality scoring chances in both the seventh and eighth innings, but couldn't push across a run. Another opportunity to score came in the fourth inning, when Thompson and Peters had back-to-back doubles, but Thompson was cut down at the plate on a 9-4-3 relay on the Peters rip to right.
Nate DeLoian (Carson Newman / Monee, Ill.) took the defeat but kept his team in the game, allowing just two runs (one earned) on five hits and three walks while striking out four in 4 1/3 innings.
"That's not Nate's best and he'll tell you that, but every pitcher we've had this summer has been less than their best in their second outing," Tyrrell said. "That was his second time out because he's been pushed back twice due to weather. He's had the worst luck of anybody on our pitching staff, but he's our guy. He and (Jack) Guzek are going to be two of our front-line pitchers that are going to win games for us and can go up against anyone."
The Oilmen (6-7) will look to get back to .500 on Friday night as Crestwood comes to town for a 7:10 p.m. start. It's Miller Lite Pink Night at Oil City Stadium with Miller Lite Pints available for the discounted price of $2 at the stadium concession stand. For those who cannot attend, Brandon Vickrey and Jon Zaghloul will have the call on the Oilmen Broadcasting Network, which is available via Facebook Live.