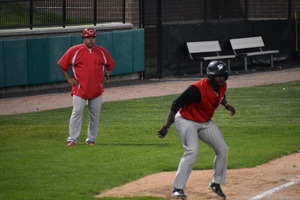 Whiting, Ind. – June 21, 2019 – As Manager Isaac Valdez had stated in the past, the key to sustained Panthers' success is pitching efficiency. With Crestwood experiencing problems closing games late, Valdez's proclamation rang true in the team's two wins on the season. Case in point, on Friday night, his affirmation held up its end of the bargain, but unfortunately, the Panthers suffered their twelfth loss of the season against the Northwest Indiana Oilmen.
Ethan Soderna (Ohio Wesleyan University / Chicago, Ill.) received the opportunity to start, and turned in an outstanding performance. He lasted six innings, giving up just one earned run, while striking out seven Oilmen hitters. Connor McCloskey (Beloit College / Chicago, Ill.) entered in relief, adding 1.2 innings of scoreless baseball, and Michael Kokoszka (South Mountain CC / Westmont, Ill.) maneuvered through a difficult situation in the eighth inning, before surrendering the game-winning run in the ninth.
"Our pitching tonight was outstanding," said Valdez. "This was the second straight night of outstanding pitching, actually. Ethan [Soderna] did such a great job at hitting his spots, and that's what made him successful. And since we play these teams quite often, we get to build a scouting report on all of them. I tip my cap to Ethan, because he followed the report, hit his spots consistently, and did his job. He was a bulldog out there today."
Oddly enough, the Panthers' primary issue against the Oilmen on Friday night was the offensive attack. As a team, Crestwood hit just .176 (6/34), with a season-high sixteen strikeouts. Nick Anderson (Kankakee CC / Highland, Ind.) and Michael Machnic (Kankakee CC / Chicago, Ill.) served as the lone bright spots in the Panthers lineup, recording two hits apiece. The former also drove in Crestwood's only run of the game.
"I thought we were really early in all of our swings and misses," said Valdez. "And in my 20-plus years of experience, when something like that happens, it usually signals that guys are trying to go yard. I feel today that we did not play selfless baseball. We didn't execute in situational hitting today, and maybe that's because we won yesterday, and let our guard down a bit. We have to do the little things to win, and we didn't do that today."
Despite the final result, the Panthers maintained a competitive nature throughout, as evidenced by the tie score entering the ninth inning. Unfortunately, Crestwood came up just short in the end. After the game, Valdez was already looking forward to Crestwood's next game against the Joliet Generals.
"I'm excited to face them. I know they haven't played a lot of games, but they're a very good club. Every team in this league is very good, and we can't back down. Luckily, we have Eddie Wilkins (University of Illinois-Springfield / Braidwood, Ill.) starting on the mound, and hopefully, our bats will wake up. If we do that, we should be in good shape.
The Panthers will take on the Generals on Saturday afternoon at Hap Bruno Field in Chicago Height, Ill. Jon Zaghloul and Sam Oppenheim will be on the call, starting at 4 p.m. via the Panthers Broadcasting Network, accessible on Facebook Live.