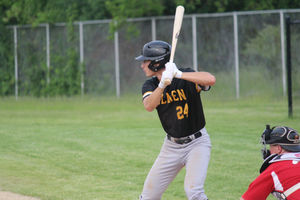 Chicago Heights, Ill. – June 22, 2019 – The Northwest Indiana Oilmen offense had its best inning of the week in the top of the sixth on Saturday at Hap Bruno Field, but that momentum vanished as quickly as it formed.
Southland (9-4) responded to a three-run top of the sixth that tied the game at four with four runs of their own in the bottom of the frame. There was no scoring over the final three innings as Southland held on to win 8-4.
"We tied it up, then walked the first batter we faced on four pitches," Oilmen manager Kevin Tyrrell said. "Nothing good happens when you do that, and the baseball gods never forgive it. It was easy to see how that inning was about to go, but I couldn't get somebody warmed up in time."
The sixth-inning uprising for the Oilmen featured three hits and two walks. Ben Berenda (IU Southeast / Rensselaer, Ind.) laced a single down the right-field line that scored a pair, then Tommy Farrell (UIC / Chicago, Ill.) provided the game-tying hit.
The Oilmen were narrowly outhit 9-7, but the key factor was the walks as the Oilmen pitching staff issued 12 bases on balls.
"It would have been a good day for a strike-thrower," Tyrrell said. "I thought the stuff of our pitchers was better than their hitters, but we didn't make them swing the bat enough. That's a confidence issue, unfortunately. You can't beat many teams when you put that many guys on via free passes."
Mike Tobin (2-1) pitched 2 1/3 scoreless innings out of the bullpen for Southland to grab the win, while Justin Ruthrauff (South Suburban / Chicago, Ill.) took the defeat, his first decision of the season. The standout pitcher for the Oilmen was Colin Walton (Robert Morris / Midlothian, Ill.), who allowed one run on four hits in three innings and issued just one walk.
"Colin learned from the guys in front of him where the strike zone was and that they weren't swinging the bats that well," Tyrrell said. "He did a good job of making them swing the bats and put the ball in play. I told him that if he gave up hits, I'd stick with him all day. If they put the ball in play, that gives us a chance to make a defensive play, but we can't defend a walk. He did a nice job of making them swing the bat."
Hunter Ryan (Purdue Northwest / Hebron, Ind.) rammed two hits to lead the Oilmen offense.
Northwest Indiana (7-8) will be back in action on Sunday to take on Joliet in a doubleheader at 1 p.m. at Wayne L. King Junior Field. The games will be carried on the Oilmen Broadcasting Network, which is available via Facebook Live with Brandon Vickrey, Sam Oppenheim and Blake Toman on the call.