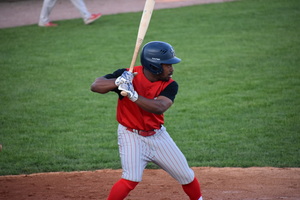 Chicago Heights, Ill. – June 22, 2019 – It's always difficult to bounce back from a hard-fought loss, especially when it occurred via walk-off fashion. That's the hand that the Crestwood Panthers were dealt heading into Saturday afternoon's contest with the Joliet Generals. Despite the narrow defeat looming large in the back of Crestwood's mind, the Panthers approached their matchup with the Generals as an opportunity to get back on track. Case in point, splendid pitching, excellent defense, and timely hitting propelled the Crestwood to a comfortable 11-3 win, thus improving to 3-12 on the season.
It all began with another spectacular pitching performance from Eddie Wilkins (University of Illinois-Springfield / Braidwood, Ill.). Wilkins, who entered the game on a nine consecutive scoreless inning streak, contributed an additional five innings toward that impressive run, before surrendering a three-run home run in the sixth. When it was all set and done, Wilkins twirled seven innings of three-run baseball, striking out six Generals hitters, while walking none. Ethen Otstott (Prairie State College / Oak Forest, Ill.) formally closed out the game, pitching two scoreless innings in relief.
"Eddie was outstanding tonight," said Manager Isaac Valdez. "He didn't throw a lot of pitches, and did a great job at, getting ahead in counts, and pounding the zone. He really challenged the hitters, and had a solid defense behind him. Everything was clicking for him."
For a team that has committed 31 errors through 15 MCL games, Saturday's stellar defensive performance signaled maturity, and continued steps in the right direction. In fact, over their past three games, Crestwood has committed just two errors, which is a far cry from the 29 miscues that plagued the Panthers over their first 12 games.
Offensively speaking, the Panthers took advantage of the Generals' inability to locate the strike zone, drawing a season-high 11 walks to complement eight hits. Austin De La Cruz (Beloit College / Kailua Kona, Hawaii) led the charge, mashing three hits to go along with two RBIs. Lawrence Noble (Coppin State University / Chicago, Ill.) added two hits of his own, while scoring twice. Meanwhile, Nick Anderson (Kankakee CC / Highland, Ind.), Mike Machnic (Kankakee CC / Chicago, Ill.), Blake Soria (Prairie State College / Homer Glen, Ill.), and Tom Stoodt (Butler University / Chicago, Ill.) each recorded two RBIs in the game.
"We were much more patient today, compared to yesterday," Valdez said. "We cut down on the strikeouts, and had timely hitting, along with good situational hitting. With the bases loaded today, we had some productive outs, while still scoring runs. That's team baseball, and I give a lot of credit to these guys to come back after a tough loss, and win the way they did."
For the Panthers, this past week marked the first instance in which they finished above .500, winning two out of the three games they played. Valdez was quite pleased with his team's performance, and their visible improvement.
"This is my expectation of the guys. And I know that this is also their expectation. So far, we haven't played as a team the way that we know that we are capable of, until this past week. As long as we continue to play Panther baseball, and the way we know that we can play, we're going to give teams lots of trouble."
The Panthers will be back in action on Sunday at 5 p.m., as they take on the DuPage County Hounds at Lemont High School in Lemont, Ill. Jon Zaghloul will be on the call via the Panthers Broadcasting Network, accessible on Facebook Live.