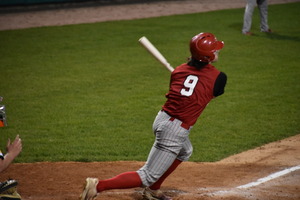 Lemont, Ill. – June 23, 2019 – Following an all-out dominant performance against the Joliet Generals on Saturday, the Crestwood Panthers entered Sunday afternoon's matchup with the DuPage County Hounds as an opportunity to build significant momentum. The Panthers had already won two out of their past three, finishing the week above .500 for the first time this season. Unfortunately, however, Crestwood's encouraging run came to an end, falling 10-2 to the Hounds in six innings.
The Panthers got out to an early 2-0 lead, courtesy of a Blake Soria (Prairie State College / Homer Glen, Ill.) two-RBI single. Soria on the day finished two for three, accounting for two out of the team's seven total hits. Crestwood's lead held true until the bottom half of the fourth inning, when Hounds shortstop Nick Santoro launched a grand slam to deep left field, plating four runs. DuPage County would tack on one more in the inning, and took a 6-2 lead heading into the fifth, before scoring three more runs. In the end, despite the rain-shortened final, Manager Isaac Valdez was not happy with the Panthers' pitching performance.
"We were just inconsistent in throwing strikes," said Valdez. "We showed flashes of throwing a lot of strikes, but we also showed flashes of throwing a lot of balls. I mean, in the fifth inning, we gave up three runs on only two hits. That's not supposed to happen, but we walked two guys and hit a batter. That's been a problem for the two guys who threw for us today."
The Panthers issued five walks, and three hit-by-pitches on the mound today, leading to eight self-induced baserunners. In fact, Santoro's grand slam occurred following two-consecutive walks, a hit-by-pitch, and a single. Thus, Crestwood's initial four-run deficit, according to Valdez at least, was manufactured by the team's own means, and not due to effective hitting on the Hounds' part.
"Before that grand slam, I kept him [Connor McCloskey (Beloit College / Chicago, Ill.)] in on purpose because one, these guys have to figure out how to compete and how to wiggle out of situations that they put themselves into. He walked the bases loaded; I'm not going to bail him out, and bring in a new guy with the bases loaded and nobody out. If you get yourself into something, you have to get yourself out of it. Sometimes it works out, and other times it doesn't. The main thing is, if our pitchers get themselves into trouble, they have to learn how to keep their composure, and get themselves out of trouble."
As a torrential downpour affected playing conditions near the beginning of the seventh inning, the game was officially called, establishing the 10-2 final result. Although the eight-run loss seems concerning at the outset, Valdez likes the direction his team is going in.
"We're in a good spot right now. With respect to our pitching, we'll have lots of guys fresh with our day off tomorrow. The unfortunate thing is that we have three positional starters down with injuries right now. That obviously hurts the offense and defense, but it also gives someone else the opportunity to step up. So guys should be excited about that."
The Panthers are off on Monday, before playing six games in six days to end the month of June. Up first is the DuPage County Hounds once again, from Howie Minas Field on Tuesday night. Jon Zaghloul will be on the call on the Panthers Broadcast Network, available via Facebook Live.