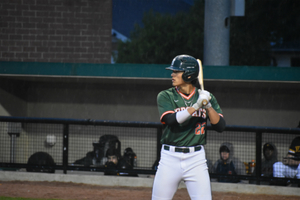 Chicago, Ill. - June 24, 2019 - After a week of baseball that saw three teams enter a virtual tie for first place, the Midwest Collegiate League has announced its fourth set of weekly award winners. The honorees feature one Bloomington Bobcat and one Joliet General.
The Bloomington Bobcats' first baseman Jake Marti (Heartland Community College / Bloomington, Ill.) secured the MCL Player of the Week award and the Joliet Generals' Jake Ostrowski (Joliet Junior College / Lockport, Ill.) took home the Pitcher of the Week award.
Marti had a phenomenal week at the plate for the Bobcats, posting an impressive .529 batting average while driving in eight runs on nine hits. His three-hit, five RBI performance against the DuPage County Hounds on Saturday, June 22, helped propel the Bobcats into a tie for first place in the MCL standings.
Ostrowski went the distance in his one appearance this week for the Joliet Generals, tallying seven strikeouts in his nine innings pitched while giving up only one earned run on five hits and three walks. Ostrowski's complete game against the DuPage County Hounds helped a struggling Joliet side improve to 3-6 on the season.

2019 Player of the Week Award Winners
June 3 - Nick Santoro, DuPage County Hounds
June 10 - Reggie Brock Jr., Crestwood Panthers
June 17 - Austin Biehl, Bloomington Bobcats
June 24 - Jake Marti, Bloomington Bobcats

2019 Pitcher of the Week Award Winners
June 3 - Jack Guzek, NWI Oilmen
June 10 - Trey Ricko, Southland Vikings
June 17 - Jack Guzek, NWI Oilmen
June 24 - Jake Ostrowski, Joliet Generals