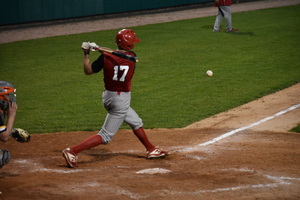 Crestwood, Ill. – June 25, 2019 – It was a hard-fought battle, one that included an astonishing six lead changes across nine innings, but in the end, the Crestwood Panthers ran out of pitching, losing to the DuPage County Hounds 21-10 on Tuesday night.
After falling behind 2-0 early, the Panthers immediately stormed back, courtesy of Brandon Simon (UA Pine-Bluff / Chicago, Ill.) two-RBI single in the bottom half of the first inning. Overall, on the day, Simon recorded two hits, three RBIs, and a run scored, proving to be a pivotal part of the offense early on. After the Hounds retook the lead in the second, Crestwood once again battled back, putting up four unanswered runs via a Mike Machnic (Kankakee CC / Chicago, Ill.), Brandon Simon walk, Tom Stoodt (Butler University / Chicago, Ill.), and a Maurey Garrett (Heartland CC / Flossmoor, Ill.) RBI single.
By the fourth inning, however, DuPage County had once again retaken the lead. And although Crestwood continued to fight back, later recapturing the lead before losing it again, their pitching and defense proved to be the deciding factor. The Panthers committed five errors on Tuesday night, in addition to issuing ten walks to Hounds hitters. Manager Isaac Valdez was quite candid in his thoughts on the Panthers' struggles both on the mound, and in the field.
"We just ran out of pitching tonight," said Valdez. "And you don't expect four pitchers to struggle as much as they did, throwing close to 200 pitches. That's not supposed to happen. These guys have been pitching their whole lives, and we need to have a better outcome. That being said, the defense did not help them at all. It forced them to throw more pitches, and put them into tough, stressful situations. So, the defense really hurt us."
To be exact, the Panthers' four pitchers combined to throw 218 pitches, all of which finishing with strike percentages less than 55 percent. Moreover, the Panthers proceeded to give up eight unearned runs on five errors, supporting Valdez's earlier point.
"Look, we just ran out of pitching tonight," said Valdez. "And now, because of the situation that we had today, we've lost a pitcher who was scheduled to throw tomorrow. We're really down arms, so we're going to have to try and put 20 on the board tomorrow to give us a little wiggle room. But we have to play better defensively; that's where it's going to start. It's perfectly fine if our pitchers don't strike guys out, but the defense behind them has to make plays."
Fortunately enough, the Panthers will be back in action tomorrow afternoon at 5 p.m. against the Southland Vikings. Will Trubshaw and Jon Zaghloul will have the call from Hap Bruno Field on the Vikings Broadcast Network, available via Facebook Live.