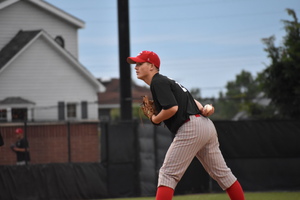 Chicago Heights, Ill. – June 26, 2019 – Manager Isaac Valdez held nothing back after his team's 21-10 defeat on Tuesday night, blatantly calling out his team's poor defensive performance. Crestwood's five errors led to eight unearned runs, and an insurmountable deficit by game's end. On Wednesday, however, the Panthers took their Manager's message to heart, and with the exception of one miscue, played a flawless game in the field. Unfortunately, due to a lack of pitching, combined with untimely hitting, the Panthers came up short, falling 5-2 to the Southland Vikings.
Ryan McGrath (South Suburban College / Chicago, Ill.) earned the start, and contributed two innings of one-run baseball, striking out one in the process. A pitch count limitation, however, saw his day end prematurely. That prompted Ryan Evans (Wisconsin Lutheran / Chicago, Ill.) to enter in relief, yet his struggles on the mound culminated in only two-thirds of an inning pitched, before Ethan Soderna (Ohio Wesleyan University / Chicago, Ill.) took over. He would go on to finish the game outright, lasting 5.1 innings, giving up only one run, while striking out four. Soderna's incredible performance continually kept the Panthers in the game, while saving arms for the rest of the week.
"Ethan did a great job keeping us in the game tonight," said Valdez. "As far as our pitching situation went tonight, we were short-handed, but it's something you just have to deal with. You would love perfect scenarios all of the time, but it doesn't always work out like that."
At the plate, the Panthers' newest addition in Ray Hilbrich (Purdue University-Northwest / Chicago, Ill.) furthered his sizzling start to the season. Through his first two games with Crestwood, Hilbrich has slashed .600/.600/1.100, while recording a solo home run during Wednesday's game. Another new Panther, Mike Machnic (Kankakee CC / Chicago, Ill.), following in Hilbrich's path, recording two hits and an RBI in four at-bats. Tim Fauth (Harper College / Elk Grove, Ill.) also added one hit in three trips to the plate. As a team, however, the Panthers hit just .219 (7/32), while leaving five runners on base.
"The pitcher [Jake Ruppert] threw a lot of strikes, and challenged us at the plate," said Valdez. "Unfortunately, we really didn't do much outside of Ray [Hilbrich]. It's been great having Ray here the last couple of days; he's really helped us out offensively."
Hilbrich has filled a significant gap in the Panthers' order, as the team has severely succumbed to the injury bug. Although D'Vante Glenn (Coe College / Chicago, Ill.) and Nick Anderson (Kankakee CC / Highland, Ind.) returned to the lineup on Wednesday, star outfielder Reggie Brock Jr. (Chicago State / Chicago, Ill.) and Rhay Street (Southwest Baptist University / Olympia Fields, Ill.) are still on the mend.
"Something I try to remind myself is that we're missing four position starters, and that makes a difference in anybody's lineup," said Valdez. "I think it made a difference today, but, this situation gives guys an opportunity to step up. It's something they should be excited about."
Since going 2-1 last week, the Panthers have dropped three straight games entering tomorrow's matchup against the Bloomington Bobcats. Valdez, though, is quite confident in his team's odds, considering the pitchers that are scheduled to throw.
"We have two quality starters throwing tomorrow, with Noah Mathias (Roosevelt University / LaPorte, Ind.) starting, and Eddie Wilkins (University of Illinois-Springfield / Braidwood, Ill.) set to enter in relief. We just need more energy out there; a better feel out on the field. And I think Noah and Eddie demand that on the mound, so I think it'll be there tomorrow."
The Panthers will take on the Bobcats tomorrow night at Howie Minas Field, beginning at 7 p.m. Jon Zaghloul will be on the call on the Panthers' Broadcast Network, available via Facebook Live.