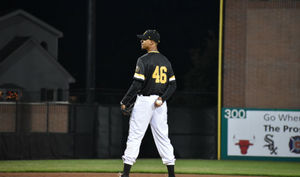 Whiting, Ind. – June 26, 2019 – Simply put, Wednesday was the best day of the season for the Northwest Indiana Oilmen.
The Oilmen put together a three-run rally in the top of the seventh of a seven-inning first game to complete a 6-4 comeback win over Bloomington, then they secured the sweep thanks to a two-hit shutout in Game 2, a 2-0 triumph.
"We played really good defense," Oilmen manager Kevin Tyrrell said after his team played two error-free games. "It was a really good day today altogether. This was a lot of fun."
Bloomington served as the home team for the opener even though it was played at Oil City Stadium as it was originally scheduled to take place in Bloomington. The Oilmen had one out and nobody on base in the top of the seventh, chasing by a run with just two outs left to work with. An error, a walk, a double steal and another error allowed the Oilmen to tie the game at four. Hunter Ryan (Purdue Northwest / Hebron, Ind. delivered a go-ahead double, then Patrick Doran (South Suburban College / Evergreen Park, Ill.) stroked a single to tack on an insurance run.
Jonny Vesevick (College of DuPage / Wheaton, Ill.) allowed four earned runs on three hits while walking four and striking out six in his Game 1 start. Tyler Laux (Prairie View A&M / Chicago, Ill.) became the winning pitcher with 2 1/3 shutout innings of relief.
"Jonny battled and really put it together after a rough first inning," Tyrrell said. "Tyler Laux has figured it out and looks awesome. I can't wait to have him start some games for us down the stretch."
The Oilmen (9-8) started the scoring in the opening inning on a Ben Berenda (IU Southeast / Rensselaer, Ind.) RBI single, but Bloomington (11-8) responded with a two-out, three-run double in the bottom of the inning. NWI tied the game with two in the fourth, but the Bobcats went back ahead in the fifth inning, the final lead change until the Oilmen put together the game-winning rally in the seventh.
Game 2 was pitching dominated as Derek Lasky (University of Indianapolis / Valparaiso, Ind.) dazzled to the tune of six shutout innings of two-hit ball while walking three and striking out eight. He was succeeded by Chris Torres (Wabash Valley / Chesterton, Ind.), who was sharp as he sent down the side in order in the seventh. The second game was slated to go nine innings, but storms hit the area after six and a half, allowing NWI to secure a win in yet-another rain-shortened game.
"Lasky has been better every time out this summer," Tyrrell said. "I'm really excited about the improvements he's made, and I know he is too. He pounded the zone and wasn't afraid to make guys swing the bat when he fell behind. Torres struggled with command his last time out, and he looked like he really figured it out tonight. He looked filthy."
Brother Rice graduate Michael Bolton made his Oilmen debut and his speed immediately played a factor. He had two hits in the first game and one in the second. His speed helped create havoc in the bottom of the first of Game 2, an inning that also featured an RBI triple by Malik Peters (Northern Illinois / Calumet City, Ill.) and a run-scoring single by Joe Rycerz (Saint Xavier / Schererville, Ind.). Those two runs held up as the only tallies of the game.
"Michael was a big spark plug for us," Tyrrell said. "Holy cow is he fast. He creates havoc on the bases and that was big for us offensively. That was significant for our hitters because their pitchers were focused on being quick to the plate and were throwing fastballs up in the zone. They stopped thinking about the at-bat and were worried more about the runner. Bolton was a game-changer out there."
The Oilmen will be back in action on Thursday at 7:10 p.m. as the DuPage County Hounds make their way to Oil City Stadium. For those who can't make it to the ballpark, the game will be available on the Oilmen Broadcasting Network via Facebook Live with Brandon Vickrey and Blake Toman on the call.