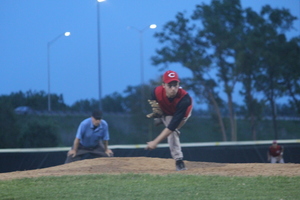 Crestwood, Ill. – June 27, 2019 – The Crestwood Panthers' shortcomings at the pitching position have been well-documented over the past few weeks. With multiple injuries and high pitch counts prematurely ending outings, the Panthers have therein struggled to find their niche on the mound. On Thursday night, however, Crestwood stepped up to the plate, or rather, confidently toed the rubber, striking out 19 Bloomington Bobcats' hitters en route to a 6-2 victory.
It all began with Noah Mathias (Roosevelt University / LaPorte, Ind.) opening the game with four innings of scoreless baseball. Although he issued six free passes, Mathias countered that total with seven strikeouts, and only one hit allowed. For the final five innings, those on the field, and in the stands, witnessed sheer dominance in the form of Eddie Wilkins (University of Illinois-Springfield / Braidwood, Ill.). Making a rare relief appearance, Wilkins allowed only one earned run, striking out a whopping 12 Bobcat hitters, while walking just two. Both Mathias and Wilkins combined for 19 strikeouts, marking a single-game season high for the Panthers. Assistant Coach Christian Poulsen was quite satisfied with the team's performance on the mound.
"When you look back at this game, the one thing that stood out to me was the pitching," said Poulsen. "We pitched extremely well tonight. What usually gets us in trouble is when we walk a lot of guys, but we didn't do that tonight. And that's a big reason as to why we won."
At the plate, Crestwood did not hit for volume, posting a team batting average of .179 (5/28), yet the Panthers recorded much-needed timely hits to firmly capture the lead early on. Overall Ray Hilbrich (Purdue University-Northwest / Chicago, Ill.) continued his assault on MCL pitching, contributing two hits in four at-bats, while adding two runs scored and one RBI. In the same vein, Maurey Garrett (Heartland CC / Flossmoor, Ill.) batted 1.000 for the day, going one-for-one officially, recording two walks, one RBI, and one run scored. Additionally, Nick Anderson (Kankakee CC / Highland, Ind.) and Austin De La Cruz (Beloit College / Kailua Kona, Hawaii) recorded one hit, two stolen bases, one RBI, and one run scored each.
"Offensively, we were athletic and fast, and we were really active on the bases," said Poulsen. "I gave these guys the green light tonight. They know how to steal bags; they know how to hit; eventually, it's all going to come together for this team."
The Panthers were indeed active on the basepaths tonight, setting another single-game season high with seven stolen bases. Crestwood's aggressive approach on the bases gave hitters countless opportunities to drive in runs. Case in point, the Panthers scored six runs, while hitting .179 as a team. Without making the decision to take the initiative on the bases, Crestwood's outcome in this game could have been much different.
With win number four under their belt, the Panthers will look to make it two in a row tomorrow night, as they visit Oil City Stadium to take on the Northwest Indiana Oilmen. Coverage begins at 7 p.m. with Jon Zaghloul and Blake Toman on the Oilmen Broadcast Network, available via Facebook Live.