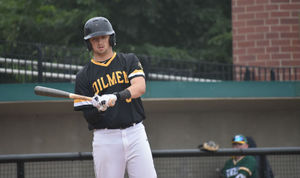 Whiting, Ind. – June 27, 2019 – The phrase "what a difference a day makes" comes to mind this week for the Northwest Indiana Oilmen.
Just 24 hours removed from completing a well-played doubleheader sweep of Bloomington, the Oilmen incurred a 14-7 setback to DuPage County on Thursday night at Oil City Stadium.
It was one that the Oilmen would like to forget as they allowed 17 hits and committed three errors to drop to 0-4 against the rival Hounds this season.
"We're falling behind hitters and giving up easy outs on the bases in games against the Hounds," Oilmen manager Kevin Tyrrell said. "We're kicking ground balls and not making good throws to first base. We're not attacking fly balls that are hit in the air. I don't know why we pick the DuPage games to play our worst baseball, but we always do. Four of our five worst games have been against DuPage County. I'm really excited to see what it would look like if we played good baseball against them, which makes me optimistic for future meetings."
Justin Conant (Ball State / Shorewood, Ill.) led the team with two hits while also drawing a walk and driving in two. A six-run second inning for the Hounds was the key frame of the game as the Oilmen gave up three doubles, a single and two walks. Malik Peters (Northern Illinois / Calumet City, Ill.) had a hit, two walks and a sacrifice fly plus two stolen bases.
After trailing 10-1 after three and half, the Oilmen got three in the fourth and eventually pushed across two in the seventh and one in the eighth.
"Their pitcher was struggling to find the zone, and after inning one we knew that any time we got on base, we were going to take second," Tyrrell said. "We had a bad second inning where we didn't make their pitcher throw strikes. We took the free base, but then we got a little too aggressive considering we were down five in the second inning. We needed to take what he was giving us, but I didn't do enough a good enough job communicating that to my hitters until the fourth inning, and that's on me."
Starter Justin Ruthrauff (South Suburban / Chicago, Ill.) was hit with the defeat after allowing six runs (five earned) on six hits in 1 2/3 innings. The best Oilmen pitching performance of the night belonged to Patrick Doran (South Suburban / Evergreen Park, Ill.), who logged four innings and allowed three runs (one earned) on six hits while issuing no walks.
"Doran did an awesome job, and we really needed that," Tyrrell said. "He saved our staff because we've got six more games in the next five days and I needed that out of him. Four innings against an offense like that is impressive. He made them swing the bat, which is what we were trying to do earlier in the game, but we didn't do a good job of that. Doran stepped up for us, and that's going to be big this week."
The Hounds (12-7) saw Seth Masters get the win after 1 2/3 scoreless innings of relief. Oilmen batters drew eight walks against starting pitcher Malik Binns, who failed to go the five innings needed to qualify for the win and gave up four earned runs on four hits.
The Oilmen (9-9) will be back in action on Friday night as the Crestwood Panthers come in for a 7:10 p.m. first pitch. It's a Miller Lite Pint Night with all Miller Lite Pints available for the discounted price of $2 at the stadium concession stand. For those who can't make it out to Oil City Stadium, Jon Zaghloul and Blake Toman will have the call on the Oilmen Broadcasting Network, which is available via Facebook Live.