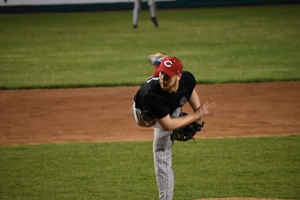 Whiting, Ind. – June 28, 2019 – From pitchers hitting, to position players pitching, Manager Isaac Valdez pulled out all of the stops in assembling a lineup card that, by game's end, bore a passing resemblance to Egyptian hieroglyphics, rather than the managerial story behind his team's matchup against the Northwest Indiana Oilmen. In a contest that saw four lead changes, 25 combined runs scored, and six total errors, the Crestwood Panthers fought from the depths of early defeat, yet in the end, did not possess enough sustainable pitching, losing to the Oilmen 16-9 on Friday night.
Near the beginning, it looked as if the game was all but over, as Northwest Indiana jumped out to an early 5-0 lead, despite recording only two hits. That seemingly insurmountable lead held firm until the fifth inning, when two walks and a single set the table for a Maurey Garrett (Heartland CC / Flossmoor, Ill.) three-run triple, pushing Crestwood to within one. An ensuing wild pitch would later score Garrett, prompting the Panthers to tie the game, before two additional wild pitches brought home Tom Stoodt (Butler University / Chicago, Ill.) and Blake Soria (Benedictine University / Homer Glen, Ill.). Crestwood, after trailing by five since the first inning, had completed a miraculous comeback, yet that initial resurgence would end up being short-lived.
The Oilmen would tack on two more runs in their half of the fifth inning, tying the game back up at seven apiece. Once again, the Panthers, however, were unfazed by Northwest Indiana's resiliency. Case in point, following a hit by pitch, single, and walk, Soria produced a game-tying RBI single in the top half of the sixth inning, giving Crestwood their second, and final, lead of the day.
"I'm very proud of our efforts, and our ability to battle," said Valdez. "We're down position starters, we're down arms, and we put a six-spot up in one inning. You know, a lot of teams would just cash it in before the game even started, considering the situation. And these guys didn't do that."
Despite the continuous offensive rally, the Panthers faced a serious problem on the mound. After exhausting Matthew Manous (University of Colorado / Munster, Ind.) and Connor McCloskey (Beloit College / Chicago, Ill.), Crestwood was left with no available pitchers. Thus began a remarkable improvisation on the mound, as Tim Fauth (Harper College / Elk Grove, Ill.), Colin Spranger (Ohio Wesleyan University / Gurnee, Ill.), and Maurey Garrett combined to throw 3.1 innings of nine-run baseball. Although statistically speaking, all three players endured tough days on the bump, their sheer ability to keep Crestwood in the game was astonishing, to say the least.
"I tip my cap to all of them because they didn't expect to throw tonight," said Valdez. "They weren't prepared to come in, but they did, and they kept us in the game until the very end. All things considered, they did a great job."
In that same vein, Ethan Soderna (Ohio Wesleyan University / Chicago, Ill.), usually a pitcher, was called upon to pinch hit in the top of the eighth inning, delivering a shocking, lead-off single, furthering the Panthers' chances late in the game. Soderna's hit furthered Crestwood's theme throughout the game of unsuspect players stepping up in big moments.
"We had guys who usually sat the bench get starts tonight, and they produced," said Valdez. "Even our PO's got in on the action, with Ethan Soderna adding his base hit. We got contributions all over the place from guys that stepped up and took advantage of the opportunity. And that was great to see."
Therefore, although the Panthers dropped to 4-16 on the Summer with their loss on Friday, their efforts will not go unnoticed. A resilient mantra and never-say-die attitude makes this team as capable as any in the MCL. And they'll have an opportunity to back it up once again, as they take on the Joliet Generals from Joliet Junior College at 1 p.m. on Saturday. Sam Oppenheim and Jon Zaghloul will be on the call on the Generals Broadcast Network, available via Facebook Live.