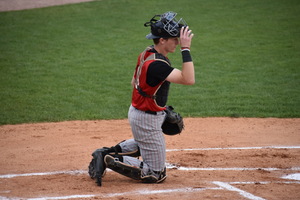 Joliet, Ill. – June 29, 2019 – The bats came alive, and the defense made the routine plays, yet once again, considerable problems on the mound plagued the Crestwood Panthers, as they fell 16-6 to the Joliet Generals on Saturday afternoon.
The Panthers, for the third time in their past four games, took the initial lead thanks to a Generals balk. Tom Stoodt (Butler University / Chicago, Ill.) would later add a two-out, RBI single, plating Nick Anderson (Kankakee CC / Highland, Ind.) who had reached earlier on via a hit by pitch. Thus, with a quick two-run advantage, Crestwood looked poised to take control of the game, adding much-needed momentum to their string of encouraging performances over the past week.
Unfortunately, however, the Generals had other plans. Joliet struck for 13 runs throughout their first four trips to the plate. Starting pitcher Ethen Otstott (Prairie State College / Oak Forest, Ill.) would go on to last just 2.2 innings, before Kent Evans (Harper College / Chicago, Ill.) made his Panther debut in relief, giving up two runs in 3.1 innings of work. Despite the team's struggles on the mound, Otstott, Evans, and Mike Machnic (Kankakee CC / Chicago, Ill.) managed to issue just two free passes throughout the game. Therefore, it was Joliet's ability to hit, and not Crestwood's inability to throw strikes, that resulted in the displeasing final score.
"Look, the brutal honesty is that we need more quality pitching," said Manager Isaac Valdez. "That's just the honest truth. At this point, all I'm asking for is guys who can record six to nine outs in an outing. Now, more than ever, we'll need the bats to work overtime for us, with these struggles on the mound."
Offensively speaking, the Panthers did contribute six runs on nine hits, yet fell far short of the 16 runs that the Generals were able to push across. Ray Hilbrich (Purdue University-Northwest / Chicago, Ill.) continued his scorching start to his MCL career, adding two hits, one of which was a triple, two stolen bases, and two runs scored. Tim Fauth, who received the start at first base, also recorded two hits of his own, along with two RBIs, while Nick Doman (Butler University / Chicago, Ill.) launched a majestic lead-off triple in the top of the second inning, later scoring on a Fauth base hit. Valdez was once again quite satisfied with his players deciding to step up in spite of the short-handed situation.
"Our bench guys have to take advantage of the opportunities that they are given," said Valdez. "So when you get your shot, and do well, it makes it difficult on me to take you out of the lineup. Some guys, in this past week as a whole, have done a great job in the limited action that they've had. Them making the most of what they're given really helps out the team."
Fortunately enough, the Panthers will be back in action for their sixth game in six days, as they take on the DuPage Hounds on Sunday afternoon at Howie Minas Field. Coverage begins at 1 p.m. on the Panthers Broadcast Network, available via Facebook Live.