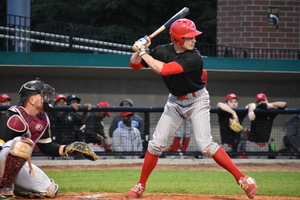 Crestwood, Ill. – June 30, 2019 – Once again, despite committing minimal mistakes on the field, and hitting .263 (5/19) as a team, the Crestwood Panthers struggled on the mound, and failed to keep up with an excellent hitting display put together by the DuPage County Hounds. Therefore, after five innings of play, and torrential rainfall in the forecast, the game was officially called, resulting in a 17-1 Panther defeat.
From the very beginning, DuPage County made a considerable impact at the plate, scoring 12 runs in the game's first three innings, before adding a five-spot in the fifth. By game's end, every hitter in the Hounds' lineup recorded at least one hit, along with five players recording at least two hits. Thus, the Panthers' troubles on the mound continued, yet, on a positive note, only four walks were issued by Panthers pitchers Brock Budzielek (Calumet College / Hobart, Ind.) and Ryan McGrath (South Suburban College / Oak Lawn, Ill.). The Hounds, simply put, hit well throughout the length of the game.
Offensively speaking, the Panthers were quite short-handed, and with a fear of being forced to play without a designated hitter, Manager Isaac Valdez inserted pitcher and MCL All-Star hopeful Eddie Wilkins (University of Illinois-Springfield / Braidwood, Ill.) into the ninth spot in the lineup, functioning as the team's DH. Wilkins would go on to record zero hits in two trips to the plate, yet made solid contact to right field and second base respectively. Blake Soria (Benedictine University / Homer Glen, Ill.) scored the team's only run, going one for two at the plate. Similarly so, Tim Fauth (Harper College / Elk Grove, Ill.) drove in Soria, recording Crestwood's lone RBI. Other top performers at the plate included Jacob Hunt (Calumet College / Whiting, Ind.) and Tom Stoodt (Butler University / Chicago, Ill.), who both went one for two, along with D'Vante Glenn (Coe College / Chicago, Ill.) who batted 1.000 on the day.
The Panthers will end their tumultuous stretch of six games in six days with a record of 1-5, and now, receive a well-deserved two days off. Crestwood will be back at it on Wednesday evening from Howie Minas Field, as they take on the Southland Vikings. Coverage starts at 5 p.m. with Jon Zaghloul and Will Trubshaw on the Panthers Broadcast Network, available via Facebook Live.