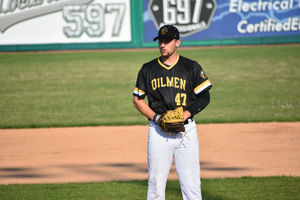 Whiting, Ind. – July 24, 2019 – After a half of an inning on Wednesday night at Oil City Stadium, the early outlook on the evening was bleak for the Northwest Indiana Oilmen.
Starting pitcher Jordan Petty (Highland, Ind. / Trinity Christian) got off to a wobbly start, allowing a Joliet run without the benefit of a hit after walking three and uncorking a wild pitch in the opening inning. But the southpaw made a mechanical adjustment and settled in, changing the complexion of an eventual 11-2 win for the Oilmen.
"Coach (Kyle) Klosak had a talk with Jordan after the first inning about a mechanical change that he needed to make," Oilmen manager Kevin Tyrrell said. "He did it and it worked. To be able to do that in the middle of the game is impressive. He made a grown-up decision that what he was doing wasn't working and he was willing to try something else. To do that in the middle of a competition is really difficult."
Although Petty turning things around after a shaky beginning was perhaps the biggest factor in the victory, the Oilmen offense did its fair share as well. The Oilmen tied the game at one in the blink of an eye in the bottom of the first, then Ben Berenda (Rensselaer, Ind. / IU Southeast) slugged a go-ahead bomb over the left-field wall, his first dinger of the summer season. That put the Oilmen up 2-1, a lead they added to with three in the second and four in the third to break it open early.
Berenda finished the evening with three hits and five RBIs.
"In batting practice he had by far his best round all year, and I jokingly said I hope they throw a 5-foot-7 righty today because he was seeing it well with me throwing," Tyrrell said. "In his first at-bat he hit a home run, so he was giggling when he was coming around third base. If he can stay hot, we've got a really potent offense."
After Petty walked three in the opening inning, the Oilmen pitching staff didn't issue any bases on balls for the game's duration. Petty yielded two runs on three hits while striking out 11 before giving way to Max Franklin (Chicago Heights, Ill.), who logged three shutout innings of two-hit ball while fanning seven and walking none. Petty, who was making his third straight start against the Generals, was the winning pitcher to improve to 2-1, while Franklin received the three-inning save.
"Max is such a powerful arm, and we need that out of the 'pen," Tyrrell said. "Franklin, (Chris) Torres and (Anthony) Hernandez are going to be guys who we go to multiple games in a row in the playoffs. We needed him to find his confidence in pounding the zone, just like we needed Jordan to figure it out. Jordan's stuff isn't hittable. Jordan is probably the least-hittable pitcher in this league. The only chance that anybody has against him is if he's not throwing strikes."
Tommy Farrell (Chicago, Ill. / UIC) doubled in consecutive plate appearances in the third and fourth innings, enjoying a multi-hit output to contribute to the team's 11-hit performance.
"He's been locked in for three games in a row," Tyrrell said. "I hope that continues as well. He's got a great swing and he's very tantalizing with his talent. He sometimes tries too hard and makes his swing harder than it needs to be. When he trusts his abilities, he's awesome."
Joliet starter Jordan Baker was tagged for nine earned runs on six hits and six walks in two plus innings. It was a tale of two pitching staffs as Joliet hurlers issued eight walks and hit five Oilmen batters while the Oilmen staff racked up an eye-popping 18 strikeouts.
The third-place Oilmen (17-14) pulled to within one game of Southland for second in the MCL standings, while Bloomington came from 8-0 down to beat the Vikings 9-8 on Wednesday, taking over sole possession of the MCL lead in the process. Joliet (12-12) sagged to fifth in the MCL standings with Wednesday's defeat, as DuPage County leapfrogged back into possession of the final playoff spot.
The Oilmen are off Thursday before visiting the Hounds at 5 p.m. on Friday at the Lemont Sports Complex. Brandon Vickrey and Blake Toman will have the call on the Oilmen Broadcasting Network, which is available via Facebook Live.