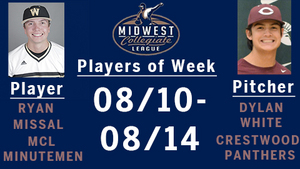 Chicago, Ill. – Aug. 15, 2020 – The Midwest Collegiate League announced its final set of weekly award winners for the 2020 season on Saturday afternoon.
Based on performances over the final week of the regular season (Aug. 10-14), Ryan Missal (Western Michigan / Lowell, Ind.) of the MCL Minutemen was named the league's Player of the Week, while Dylan White (University of Chicago / Danville, Calif.) of Crestwood was named MCL Pitcher of the Week.
Missal went 5-for-12 (.417) over the final week of the season, launching a pair of home runs and driving in eight. He scored four times and posted a .452 on-base percentage for the week while slugging .917.
White pitched six innings of scoreless relief on Tuesday against the MCL Minutemen to earn the victory and help the Panthers stay alive in the playoff chase. He yielded just one hit and fanned five to shrink his season ERA to 1.59.
The MCL will announce its major awards and all-league team the day after the completion of this weekend's MCL Championship Series
2020 Player of the Week Award Winners
July 13 – Justin Rios, Southland
July 20 – Patrick Doran, Minutemen
July 27 – Ray Hilbrich, Crestwood
Aug. 3 – Angelo Cantelo, NWI
Aug. 10 – Seth Masters, DuPage County
Aug. 15 – Ryan Missal, Minutemen
2020 Pitcher of the Week Award Winners
July 13 – Jake Karaba, Southland
July 20 – Jack Guzek, NWI
July 27 – Kyle Iwinski, NWI
Aug. 3 – Clayton Bumsted, Southland
Aug. 10 – Jordan Petty, Joliet
Aug. 15 – Dylan White, Crestwood