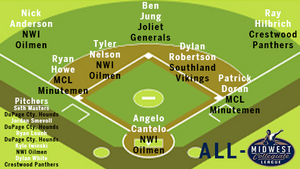 Chicago, Ill. – Aug. 18, 2020 – The Midwest Collegiate League announced its annual postseason honors on Tuesday.
After guiding his team to its best finish since joining the MCL, Isaac Valdez of the Crestwood Panthers was named the MCL Manager of the Year. The Panthers were well represented among the major honorees as Ray Hilbrich (Purdue Northwest / Schererville, Ind.) was named the MCL Most Valuable Player. In addition, DuPage County southpaw Jordan Smevoll (Webster / Dyer, Ind.) was named the MCL Pitcher of the Year.
Valdez helped his team remain in playoff contention up until the final days of the season, posting a 17-14 record and .548 winning percentage. The Panthers finished in third place in the MCL standings, posting their best season since joining the MCL prior to the 2017 campaign. The Panthers bounced back from an 11-29 record in 2019 and a combined 29-97 (.224) record over three straight last-place finishes from 2017-2019. Valdez notched as many wins this season (in 31 games) as he did over his first two seasons combined (over total 75 games). Valdez was the overwhelming choice for the MCL Manager of the Year, receiving the vast majority of the first-place votes and receiving either a first- or second-place nod from every voter who was eligible to vote for him (managers cannot vote for themselves).
A 2019 MCL All-Star, Hilbrich posted a .356/.452/.587 slash line while crushing three home runs and driving in 23. He scored 21 times and clubbed 15 doubles in 29 games. The 2018 Lake Central High School graduate has spent the last two seasons at Purdue Northwest. He is a member of the All-MCL team for the second consecutive season, serving as the squad's lone repeat honoree.
Smevoll paced a talented Hounds pitching staff with a microscopic earned run average of 1.79 while striking out 29 and permitting nine walks in 25 1/3 innings. He went 2-0 and nailed down three saves over eight outings, two starts. The 2019 Marian Catholic High School product is entering his second season on Webster's campus.
The MCL also announced its 13-player all-league team, highlighted by a trio of unanimous selections – Hilbrich, Northwest Indiana's Nick Anderson (Arkansas Fort Smith / Highland, Ind.) and Southland's Dylan Robertson (Iowa Western / Downers Grove, Ill.).
The MCL major awards are determined based on a vote of the league's managers and broadcasters, while the all-league team is determined based on a broadcaster-only ballot. Nominations for all honors are provided by league managers. Only regular-season accomplishments are taken into consideration for both the major awards and the all-league team, as voting takes place prior to the start of postseason play.
2020 MCL All-League Team
P - Seth Masters, DuPage County Hounds
P - Jordan Smevoll, DuPage County Hounds
P - Ryan Louck, DuPage County Hounds
P - Kyle Iwinski, NWI Oilmen
P - Dylan White, Crestwood Panthers
OF - Nick Anderson, NWI Oilmen (unanimous)
OF - Ray Hilbrich, Crestwood Panthers (unanimous)
OF - Ben Jung, Joliet Generals
C - Angelo Cantelo, NWI Oilmen
1B - Patrick Doran, MCL Minutemen
2B - Dylan Robertson, Southland Vikings (unanimous)
SS - Tyler Nelson, NWI Oilmen
3B - Ryan Howe, MCL Minutemen
MCL Manager of the Year History
2020 – Isaac Valdez, Crestwood Panthers
2019 – Jake Wegner, Bloomington Bobcats
2018 – Ben Caple, DuPage County Hounds
2017 – Kevin Franchetti, Southland Vikings
2016 – Tom Barry, Joliet Admirals
2015 – Sean Osborne, DuPage County Hounds
MCL MVP History
2020 – Ray Hilbrich, Crestwood Panthers
2019 – Nick Santoro, DuPage County Hounds
2018 – Nate Montgomery, NWI Oilmen
2017 – Jack Butler, Bloomington Bobcats
2016 – Tyler Sroczynski, NWI Oilmen
2015 – Tyler Sroczynski, NWI Oilmen
2014 – Bobby Sheppard & Jeff Boehm, Southland Vikings
MCL Pitcher of the Year History
2020 – Jordan Smevoll, DuPage County Hounds
2019 – Justin Rios, Southland Vikings
2018 – Quinn Gudaitis, Bloomington Bobcats
2017 – Kevin Glynn, Southland Vikings
2016 – Mitch Weis, Bloomington Bobcats
2015 – Tom Concklin, DuPage County Hounds