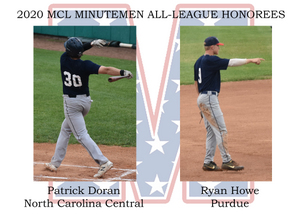 Whiting, Ind. – Following their historic first season in the Midwest Collegiate League, the MCL Minutemen featured prominently in the 2020 All-League Team on Tuesday. They tied for the third-most selections amongst the league's six franchises, representing both corner infield spots as Patrick Doran (North Carolina Central/Chicago, Ill.) and Ryan Howe (Purdue/Mount Prospect, Ill.) were recognized as the best first and third basemen.
Howe, a rising junior at Purdue University, proved to be the heart and soul of the MCL lineup. A force at the plate, he led the team in RBIs (28), extra-base hits (13), doubles (8), and tied for first in triples (3) over 26 games and 114 plate appearances. His .318 batting average, .460 on-base percentage, .553 slugging percentage, 20 runs scored, 19 walks, and 27 hits earned top-three finishes within the Minutemen team totals while finishing second in the entire league in RBIs. However, defense was easily his best tool. His numerous gold-glove caliber plays earned him the respect of players across all six squads, showing why he earned Purdue's Defensive Player of the Year honor in 2019.
Despite a late start, Doran made all his 53 at-bats count. He topped the Minutemen in batting average (.377), slugging percentage (.717), and tied for the most home runs (5), finishing first in the MCL in the latter category as well. Additionally, the incoming North Carolina Central University transfer ended his year with a .476 on-base percentage, 17 RBIs, 20 hits, and 8 extra-base hits, all good for top-six team finishes. He was also one of just six qualified hitters in the entire league to produce an on-base plus slugging percentage over 1.000 (1.193).
2020 MCL Major Awards
MVP – Ray Hilbrich, Crestwood Panthers
Pitcher of the Year – Jordan Smevoll, DuPage County Hounds
Manager of the Year – Isaac Valdez, Crestwood Panthers
2020 MCL All-League Team
P - Seth Masters, DuPage County Hounds
P - Jordan Smevoll, DuPage County Hounds
P - Ryan Louch, DuPage County Hounds
P - Kyle Iwinski, NWI Oilmen
P - Dylan White, Crestwood Panthers
OF - Nick Anderson, NWI Oilmen (unanimous)
OF - Ray Hilbrich, Crestwood Panthers (unanimous)
OF - Ben Jung, Joliet Generals
C - Angelo Cantelo, NWI Oilmen
1B - Patrick Doran, MCL Minutemen
2B - Dylan Robertson, Southland Vikings (unanimous)
SS - Tyler Nelson, NWI Oilmen
3B - Ryan Howe, MCL Minutemen